Đà Nẵng beat HCM City in V.League 1
Table toppers HCM City were left stunned last night after losing by two goals to nil away at Đà Nẵng.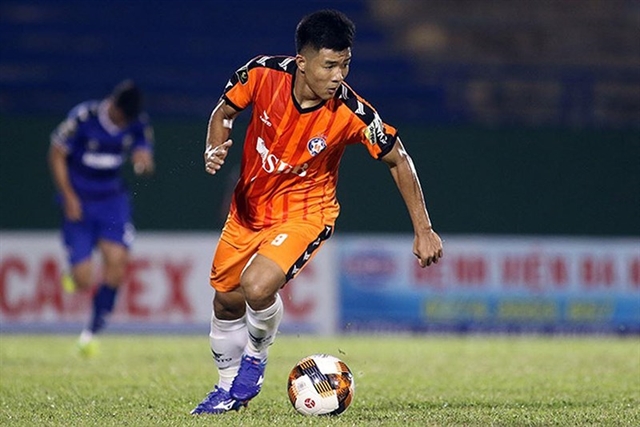 Đỗ Merlo and national striker Hà Đức Chinh scored the goals for the home side.
HCM City started the match aggressively and created a number of chances but rushed in front of goal and failed to find the net.
Despite opportunities to take the lead, the first half ended goalless.
After the break the home side were on the front foot on 56 minutes Merlo broke the deadlock.
He rose high from Thanh Hải's corner to head home past Nguyễn Thanh Diệp in the visitor's net.
The goal sparked South Korean coach Chung Hae-seong to make changes in search of an equaliser.
And the substitutions almost paid off when Văn Thành found himself through on goal but his effort struck the bar.
Five minutes later Merlo had the chance to double the lead, and his own tally, but couldn't find the back of the net.
League leaders HCMC pushed for an equaliser throughout the second half but were thwarted at every attempt.
In the 85th minute the home side finally put the game out of reach through striker Chinh.
His goal justified his selection in the national squad for the upcoming King's Cup to be played in Thailand next week.
The loss may have dented City's title aspirations but they still top the table with 26 points, some five points clear of Hà Nội who have 21 points.
The win saw Đà Nẵng reach 18 points behind the top two.
Meanwhile at the Thanh Hóa Stadium, the hosts came from behind to beat Nam Định.
This defeat will have dented the visitor's momentum after their shock 3-2 win over champions Hà Nội in their last game.
That's now seven wins in a row for Thanh Hóa.
Thanh Hóa controlled the game from the off but it was Nam Định who drew first blood.
Thanh Hóa's Gramoz Kurtaj made an error allowing Patiyo Tambwe to steal in the penalty area and find Diogo Pereira who didn't waste the chance.
Receiving a good pass of his teammate on the right wing, Trọng Hùng then levelled the score at 1-1.
Early in second half, Rimario Gordon made Thanh Hóa fans jump for joy with his goal to put the side in front.
But the real action was still to come.
Diogo Pereira netted the second goal for Nam Định in the 82nd minute but just five minutes later, Đinh Tiến Thành beat goalie Đinh Xuân Việt to finish the match of 3-2 in favour of Thanh Hóa.
Elsewhere yesterday, Viettel drew with Quảng Ninh Coal 3-3.