Defeating U19 Guam, U19 Vietnam ready to against U19 Japan
After the victory 4-1 in the match with U19 Guam, U19 Vietnam now ready for the biggest challenge in the last match of the U19 Asia 2020 qualifying is…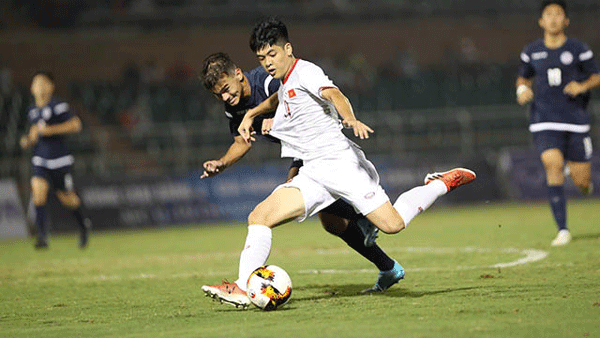 With the change in two-third of the line-up, U19 Vietnam has a good start and fashioned the first genuine chance on 4 minutes when Huu Nam got an angled shot into the goal.
However, after that, the team of Mr. Philippe Troussier has to wait until 29 minutes to have the second score by the shot of Tan Thanh. 4 minutes later, Quoc Dat brought for the home team one more goal.
Unfortunately, just 1 minute later, from the mistake of goalkeeper Van Chuan, Jacob grabbed in the chance to shorten the score to 1-3.
This goal had a huge effect on U19 Vietnam. U19 Guam had taken the initiative but couldn't get more score.
In the second half, the team of head coach Philippe Trossier missed many chances to make a score. It was not until the 85th minute that Vietnam U19 got the fourth goal thanks to Huu Nam's.
With the victory 4-1, U19 Vietnam still is the runner-up of Group J due to the difference in goal difference compared to Japan U19 despite having the same 6 points.
Hence, the last match between U19 Vietnam and U19 Japan is the important match to decide who will be the winner of Group J. This is also the opportunity for Vietnam to get the ticket of U19 Asia 2020.
Line-up
U19 Vietnam: Van Chuan, Quang Thinh, Tien Long, Quoc Đat, Cong Den, Tan Thanh, Ngoc Son, Van Huu, Duc Hoang, Huu Nam, Minh Trong.
U19 Guam: Alexsander Kanto, Morgan Kainoa, Anthony Simon, Noah Mueller, Ethan Mathew, Anthony Quidachay, Kyle Ko, Jacob Rosario, Jaco Kido, Hobben, Micah Thomas.
Timetable of 10th Nov, 2019
16:00 Guam – Mongolia
19:00 Vietnam – Japan