SEA Games: Women target gold, men final berth
Việt Nam set a target of winning a gold medal for women and a berth in the final for the men at the coming Southeast Asian Games in Malaysia.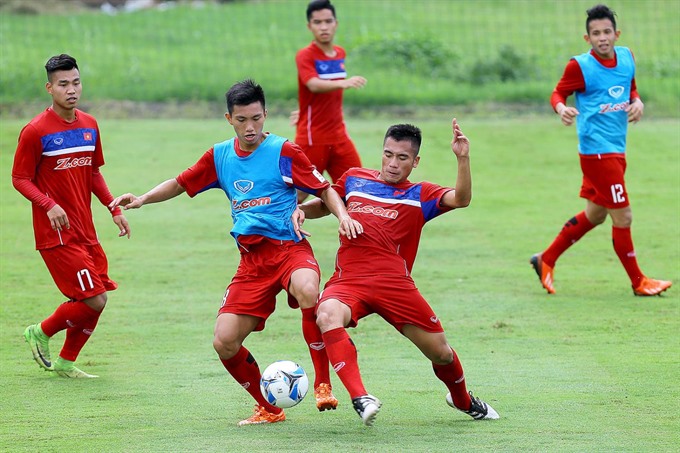 U22 players train in Hà Nội. They are set a target of SEA Games' finalist.
Việt Nam Football Federation Vice President Nguyễn Xuân Gụ announced the goals at a meet with journalists yesterday in Hà Nội.
"Our women have won the SEA Games titles on several occasions. Việt Nam are one of strongest teams in the region so we would definitely want a gold medal again," said Gụ.
"On the men's side, we have never won a title despite all our efforts. However, this year a great job has been done. We have strongly supported the team with intensive practice courses, foreign coach, and fitness trainer and technical director, all you can see throughout recent years. We hope that would help to make our dream come true. And this year we want them to at least enter the final," he said.
VFF Vice President Trần Quốc Tuấn also shared his ideas.
He said the current team with Nguyễn Công Phượng, Nguyễn Văn Toàn and Lương Xuân Trường had been receiving support since the last SEA Games. Together with the best players selected from the U-20 squad who competed in the World Cup last month the team hold promise.
"In terms of international experience, our squad is quite good as they have taken part in a number of events. It is the generation that enjoyed the best preparations for the SEA Games. We just need God's blessings to succeed, and blessings will come if we try hard," Tuấn said.
Việt Nam women's team won the SEA Games four times in 2001, 2003, 2005 and 2009. In the latest Games which included women's football in Myanmar in 2013, they finished lost 1-2 to Thailand in the final.
The men's best position was first runner-up five times in 1995, 1999, 2003, 2005 and 2009. They were third at the Singapore Games in 2015.
Speaking about the men's team, coach Nguyễn Hữu Thắng said Việt Nam were drawn in a group of six teams. It meant that they had to play one match more than those of the other group. It would be one of the difficulties but players were under no pressure.
"We are in the same group with Indonesia, the Philippines and defending champions Thailand, which is called 'Group of Death'. It is difficult for us but it is the same for the other teams as well. We look at them as tough rivals, and so do they as Việt Nam are also a tough team under their eyes," said Thắng.
"I want my players to compete with an open mind. They are under no pressure but have been asked to train as hard as possible. I also want them to play with belief. They can lose or win but if they do the best in every game they could leave the field with peace of mind. And of course, a little luck by our side will be perfect," said Thắng.
Men's football will be organised from August 14 to August 29. Việt Nam in Group B will first play East Timor on August 15.
Vietnamese players have trained in Hà Nội for 10 days. They will leave for HCM City tomorrow and have three days to prepare for the Asian Football Confederation U-23 Championship qualification round.
They will play East Timor on July 19.
On the women's side, coach Mai Đức Chung said his players were in a good mood for the SEA Games.
"They have shown better skills and physique after a recent training in Quảng Ninh Province. We will have another practice course in Japan with several friendly matches. All these works are for success in the SEA Games," said Chung.
Chung, however, did not share his opinion of the gold medal target but said his players had prepared carefully so their result could be better than the men's.
He said he did not want his players to be nervous because of the target, but they should play with easy shoulders.
There are five teams competing in the women's football. They will compete in a round-robin format and the team with highest points will be the champions.