Việt Nam tie goalless with Jordan
Việt Nam tied goalless with Jordan in the 2019 AFC Asian Cup qualification match at Thống Nhất Stadium in HCM City on Tuesday night.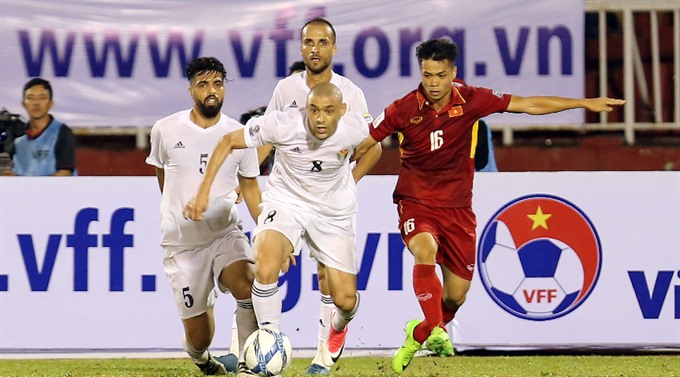 Vietnamese striker Nguyễn Công Phượng (right) vies for the ball with Jordan players in the 2019 AFC Asian Cup qualifying Group C in HCM City on Tuesday.
With this result, Việt Nam rank third in Group C with two points after two matches. Jordan take the lead with four points. Cambodia, who defeated Afghanistan 1-0 yesterday, come in second with three points while Afghanistan are at the bottom with only one point.
Earlier, Việt Nam tied with Afghanistan 1-1.
Although Jordan were rated higher than Việt Nam, they played slowly to explore the way of playing of Việt Nam in the first 20 minutes of the match.
The two sides had many chances to open the score but were unable to find a breakthrough, with Việt Nam grateful to goalkeeper Đặng Văn Lâm.
The hosts Việt Nam created the first real chance after 24 minutes when a free-kick from captain Đinh Thanh Trung hit the post.
However, just four minutes later Jordan responded as goalkeeper Lâm was forced into a save to turn away a header from dangerous striker Hamza Al Dardour.
The end-to-end nature of the contest continued as Jordan goalkeeper Amir Shafi had to gather a long shot from defender Vũ Văn Thanh at the second attempt a minute later.
After the break, Việt Nam were quickly out of the blocks, and Nguyễn Văn Quyết attempted to play in fellow forward Nguyễn Công Phượng five minutes after the restart, but unfortunately for the home side, the chance failed to materialise.
Goalie Lâm had an outstanding performance in this match. Around 10 minutes before the close of the match, Lâm saved three losses for Việt Nam, especially when he faced Saleh Rateb in the 88th minute.