Việt Nam beat Jordan to enter third round of Olympic 2020 qualifiers
The Vietnamese women's football team beat Jordan 2-0 in their final Group B match of the 2020 Tokyo Olympics' second qualifying round in Tashkent,…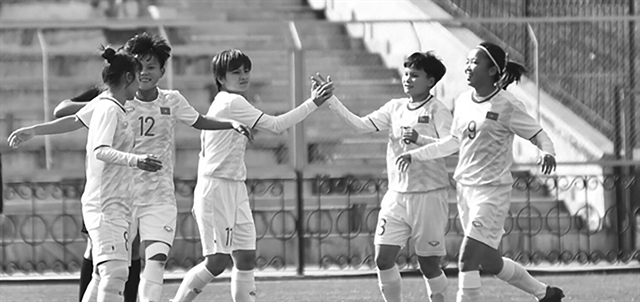 With this win, Việt Nam topped Group B on nine points and earned a ticket to compete in the third round of qualifiers.
Earlier, Việt Nam defeated Hong Kong 2-1 and then Uzbekistan 2-1, putting the team in a comfortable spot ahead of the final game.
The Vietnamese side controlled the game since the opening whistle and created many dangerous attacks.
Coach Mai Đức Chung told his players to complete short passes to tire out Jordan and control the game, a strategy that worked well, though the Jordanians did manage several long shots.
After the break, Jordan were worn down and Việt Nam scored two goals in the 65th and 67th minutes thanks to Nguyễn Thị Vạn and Huỳnh Như.
In the last minutes, Jordan, who are mostly U20 players, were awarded a penalty but were unable to convert.
In the other match of Group B, Uzbekistan crushed Hong Kong 5-1 to finish second in the group with six points.
Việt Nam finished as one of the top eight teams in Asia to qualify for the third qualifying round for the 2020 Tokyo Olympics alongside Australia, North Korea, South Korea, China and Thailand.
The third round, slated for early next year, will see the eight participants play in a round-robin format in two groups, with the top two teams from each group qualifying for the final round of Asian qualifiers.
The two final round winners will join Japan as the AFC representatives at the 2020 Summer Olympics.