Bình Dương to meet Hà Nội in a match of champions
Becamex Bình Dương vs Hà Nội FC will be the focus of the V.League 1's this weekend as the two teams have won the national premier league title…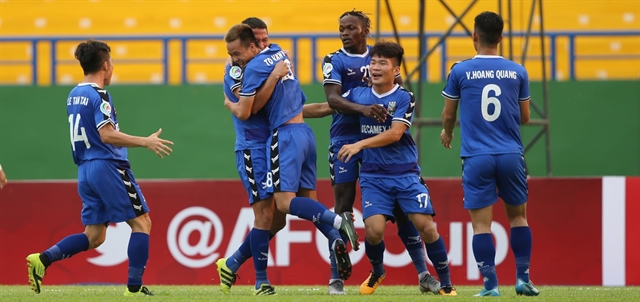 While Bình Dương have three titles while the defending champions Hà Nội have won it five times.
Both of them just finished their fifth match day at the Asian Football Confederation Cup and have chance to advance to the next stage. Bình Dương won 3-1 over Indonesian Persija Jakarta while Hà Nội beat Naga World of Cambodia 5-1.
However Bình Dương have big problems heading into the game at the Gò Đậu Stadium on Sunday.
Coach Nguyễn Thanh Sơn will not have striker Đinh Hoàng Max and midfielder Lê Tấn Tài as they have not recovered from injuries.
Russian Midfielder Veniamin Shumeyko is only just back from injury and expected to make the bench after stretching a muscle during the Persija Jakart match.
Shumeyko is considered the best player in the midfield of the three-time champions.
Coach Sơn said Hà Nội were really strong and he had not found a solution to resist their powerful forwards even when Bình Dương, who are in the middle of the ranking table, could play with their best lineup.
Sơn was right about the capital team's strikers. Pape Omar Faye and Oseni Ganiyu Bolaji are at their peak with six goals in total. And the team's star Hoàng Vũ Samson has scored six goals so far.
National Nguyễn Quang Hải who was one of five best players in the AFC Cup's, defender Đỗ Duy Mạnh and former national midfielder Phạm Thành Lương are showing good form, helping their team jump to the top of the V.League 1 after seven matches.
The only advantage of Bình Dương is that they will play on home turf.
In their last four V.League meets at the Gò Đậu Stadium, Hà Nội have won one and drew one with Bình Dương winning the other games.
Meanwhile, second-placed HCM City are ready to move back to the top spot if Hà Nội fail in Bình Dương. In this round they face hosts Sanna Khánh Hoà in Nha Trang City.
HCM City under South Korean coach Chung Hae-soung have won five and drew one while Khánh Hoà have lost their last four games and currently sit second from bottom.
Sông Lam Nghệ An are in third place with 14 points. A win over newcomers Viettel at the Hàng Đẫy Stadium would also see them leapfrog Hà Nội should the capital team lose.
Thanh Hoá are looking for their first win of the season.
They will host former champions Quảng Nam and club president Nguyễn Văn Đệ decided to let all supporters watch the game for free.
Đệ also promised to increase bonuses for players if win or draw.
These are activities that club president Nguyễn Văn Đệ hoped to encourage his players' spirit.
A win will definitely push Thanh Hoá up from the bottom place.
Elsewhere, SHB Đà Nẵng whose national striker Hà Đức Chinh has not been in his best form of late, will entertain Quảng Ninh; Hoàng Anh Gia Lai will meet Hà Nam and Hải Phòng will see Sài Gòn FC.