Việt Nam crush Philippines 24-0 in futsal championship
Việt Nam trounced the Philippines 24-0 in their first match of Group A at the ASEAN Football Federation HDBank Futsal Championship yesterday in HCM…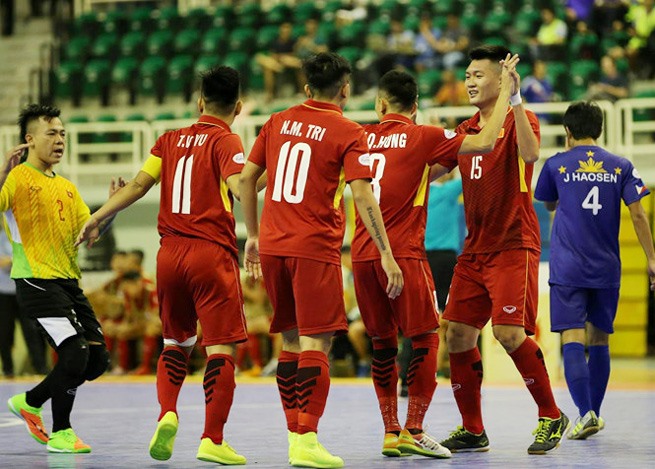 Vietnamese players celebrate their goal in a match against the Philippines in the AFF Futsal Championship. Việt Nam win 24-0
The hosts, who advanced to the quarter-finals of last year World Cup, easily dominated the visitors.
Quốc Hưng scored a double just three minutes from the first whistle.
After 12 minutes, it was 7-0 for Việt Nam who wrapped up the first half at 10-0.
Nothing changed after the interval.
Việt Nam continued scoring against the Philippines who were too weak to resist.
Fourteen more goals were scored for Việt Nam who will meet Indonesia in the next match today.
Indonesia beat Brunei 9-0 in another match of the group.
In Group B actions, defending champions Thailand and Malaysia qualified for the semi-finals after their second wins yesterday.
It means that they have secured their place in the Asian Futsal Championships next year.
Thailand, the 12-time winners of this tournament, whipped Timor Leste 17-2 while Malaysia out-played Laos 6-3 at the Phú Thọ Indoor Stadium.
"It was another serious performance from the players and even though we relaxed a little bit in the second half, still it was another good win." said coach Jose Mendez of Thailand on aseanfootball.org.
"We have achieved our target of making the AFC tournament and that's important. Now we will have to look at the big game (against Malaysia) tomorrow)."
"I am not too concerned who we play against in the semi-finals," said Malaysian head coach Chiew Chun Yong. "I am more inclined to look at my players and how we will prepare against Thailand tomorrow."
The winner of this match will be the leader of Group B.