Hà Nam win first women's National Cup
Vũ Thị Thuý scored the only goal in Phong Phú Hà Nam's 1-0 win to claim the first National Women's Football Cup in Hà Nội yesterday.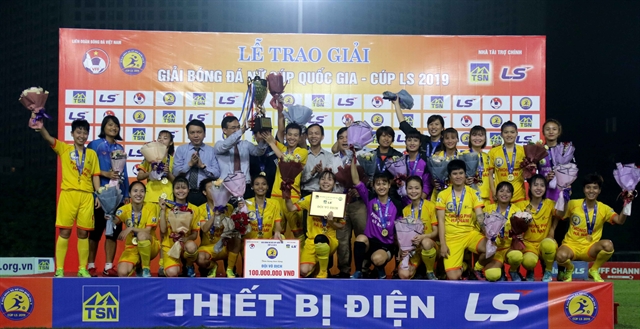 Facing hosts Hà Nội, the underdogs were under pressure from the kick-off.
However, Hà Nam defended strongly and hit them on the counter-attack at every opportunity.
The second half saw Hà Nội launching high balls to strikers Phạm Thị Hải Yến and Vũ Thị Nhung in a change of tactics, but it was Hà Nam who nicked the crucial goal.
Thuý controlled a pass from teammate Nguyễn Thị Tuyết Dung from the right wing and sent it into the far corner in the 61st minute.
Hà Nam were able to play out the rest of the game to claim the trophy.
In the third-place match, TNG Thái Nguyên beat Sơn La 2-1 to take bronze.
Hồng Vân opened the scoring for Sơn La in the 53rd minute to the surprise of Thái Nguyên who had scored first in their last six meetings.
Thái Nguyên leveled the score through substitute Nguyễn Thị Chuyền 10 minutes later, and the defender Chuyền made it a brace to secure victory from close range.
The cup winners received VNĐ100 million (US$4,300), and Lại Thị Tuyết was voted goalkeeper of the tournament.
Hà Nội's Yến secured most valuable player and top striker with six goals.
The Việt Nam Football Federation expects the tournament to become an annual event.