Chung calls youngsters to revamp image of team
Coach Mai Đức Chung is bringing fresh air into the national women's football team as he has summoned new faces to train with senior players this…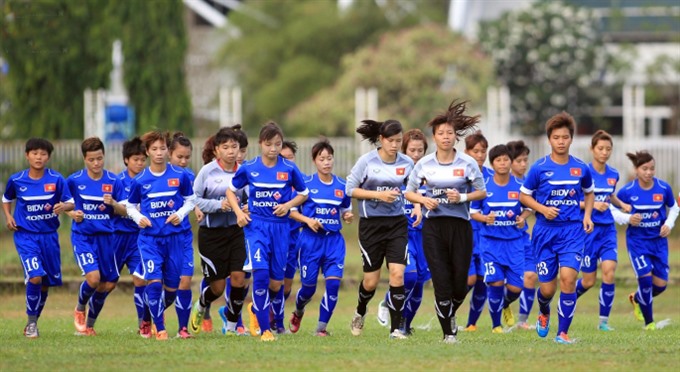 A national team of senior and junior players will train in Hà Nội and focus on winning the Southeast Asian Games title this year.
Twenty-six players have been named as they prepare to take back their title of the 29th Southeast Asian Games in Malaysia this August.
In this training, Chung has offered places to four goalkeepers, 11 defenders, six midfielders and five strikers.
The absence of midfielder Nguyễn Thị Hòa is a pity. Hòa was one of the best players at the 2018 Asian Cup qualifier. But she could not join her teammates due to an injury. Young striker Nguyễn Thúy Hằng has been sidelined as she suffered a leg injury while midfielder Trần Thùy Trang and defender Đỗ Thị Nguyên have moved on to compete for the futsal squad.
Chung has decided that his team will be a mixture of senior and junior members.
The experienced ones such as forwards Huỳnh Như and Nguyễn Thị Muôn, goalie Đặng Thị Kiều Trinh and midfielder Nguyễn Thị Tuyết Dung would be a stable base for young teammates including defender Phạm Thị Tươi and Nguyễn Minh Anh and forward Nguyễn Tuyết Ngân, who showed off their outstanding skills in the first leg of the national league.
All of the youngsters, according to the coaching board, are in good form, have a good physique and the mind for competition.
"I was really happy when Chung called me to the national team. It is unbelievable and I am a little nervous now. But I will try my best to integrate with my senior teammates," said Anh from Phong Phú Hà Nam FC.
Keeper Trinh shared that it would be her last SEA Games so she would focus all her energies on the best result.
"I am 32 now and really want to end my career with a victory. I would do everything to win this SEA Games," Trinh said.
"The key players are those who competed in the 2018 Asian Games qualification. But I have called some players who showed their talent at the national league and some others have been picked from the national U-19 squad. They are the core of the team who will compete at the Malaysian Games," Chung said.
The team will have 10 days in Hà Nội before moving to Sầm Sơn Beach in Thanh Hóa Province for physique training until July 4. They will enjoy a one-week course in Japan from July 22 to July 28 together with three friendly matches.
The former champions, who earned their berth in the 2018 Asian Cup finals, will fly to Malaysia on August 11 to compete for the SEA Games title.