FIFA Inception Workshops with ASEAN countries: Collaboration plan for the implementation of MOU between ASEAN and FIFA 2021-2025
On 5th Aug, FIFA has an online meeting with representatives of the Football Federation and Senior Official Sport of ASEAN to discuss the plan for the implementation of the Memorandum of Understanding MOU about the development of football 2021-2025.

06/08/2020 11:45:22
Mr. Nguyễn Hải Đường – Director of International Cooperation Department, Sports General Department and Mr. Lê Hoài Anh – VFF General Secretary joined in this meeting.
This meeting is the chance for ASEAN countries to discuss the implementation of MOU between ASEAN and FIFA, summit in Bangkok, Thailand on 2 Nov 2019. This Collaboration Plan will provide a set of activities to be carried out under the four (4) areas of collaboration under the signed MOU with the period 2021-2024, namely: Promotion of Sports Integrity, Sports for Development, FIFA's Football for Schools Programme, and Professional Capacity Building.
VFF always focuses and concentrates on these issues to work for the development of Vietnamese Sport. In which, VFF continues working with the Vietnam Ministry of Public Security and other partners for suspicious match-fixing. Recently, VFF has made a disciplinary decision on 11 youth players from Dong Thap U21 club for match-fixing in the U21 National tournament and the disciplinary is also imposed by FIFA to the global level.
The football for all is quite developed in Vietnam now. More and more community football centers have been built up all over the country. VFF has cooperated with FFAV to develop and expand the participation of boys and girls. Besides that, VFF also keeps remaining the coaching to SOS village children annually and working with UNICEF Vietnam to promote the program of protecting children and using football as a tool to develop skills and health for children.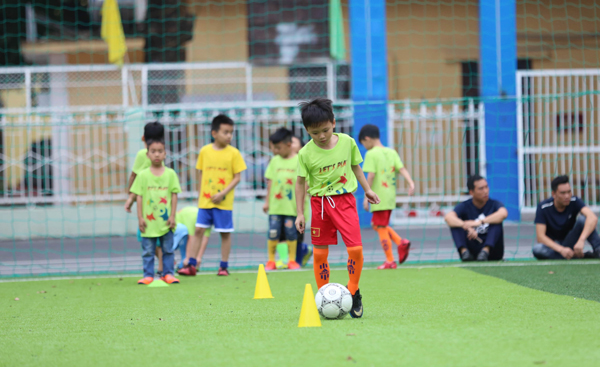 With the ambition at making football more accessible to children around the world, VFF in cooperation with Sport General Department of Vietnam and Ministry of training and education to build up the Strategy for football for all development including school football. At the moment, the statistics collecting is executed.
To foster the internationalization of football in the ASEAN region, the meeting focuses on the capacity building and training on international football standards and game regulations, and the safety and security at football matches.
The next sessions of this workshop will take place on 12th and 14th Aug 2020.