Friendly match at Hamamatsu, U17 Vietnam team beat U18 Honda FC 3-1
On the afternoon of May 28, the U17 Vietnam team had the second friendly match during the training session in Hamamatsu, Japan. The U18 Honda FC was rated higher than the opponent in the first friendly match, so coach Hoang Anh Tuan's team continued to show progress with coherent play, good ball control and won 3-1.

29/05/2023 11:09:32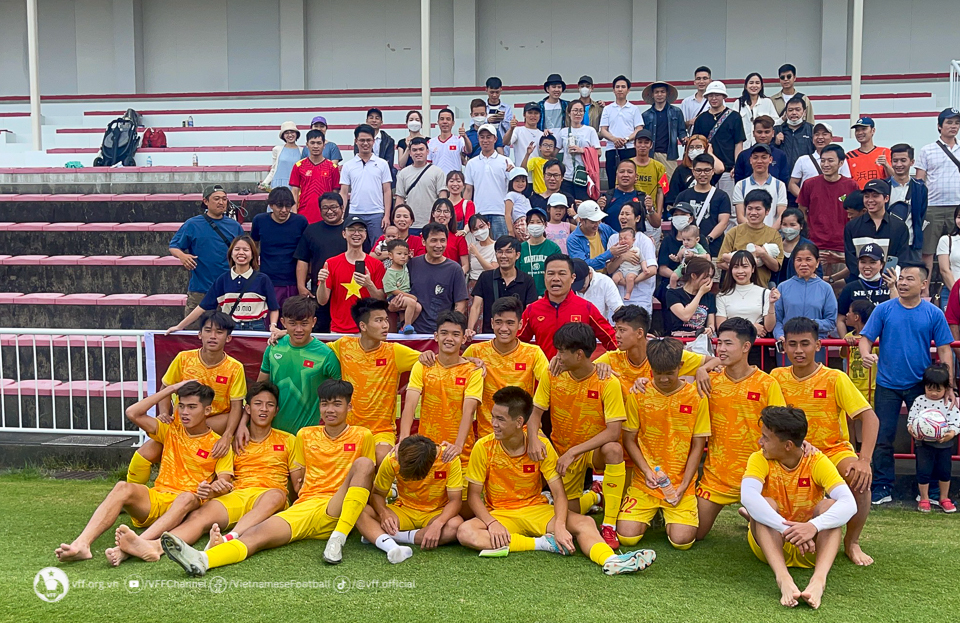 For the purpose of checking and evaluating training results in the past few days, coach Hoang Anh Tuan took the advantage to substitute in this match, and gradually shaped the main frame with the best performance in each position.
In the first half, U17 Vietnam actively entered the game with composure and prioritized certainty in the defense system. With a disciplined play, coach Hoang Anh Tuan's team not only successfully neutralized opponent team's ball phases, but also had a goal to take a 1-0 lead, after a tight finish from a distance of nearly 20 meters of midfielder Quoc Trung. This is also the score of the first half.
In the second half, U18 Honda FC's offensive efforts helped them get a 1-1 equalizer. However, this also did not help the host of Miyakoda to reverse the situation before the excitement of the U17 players Vietnam. In the remaining minutes, U17 Vietnam maintained dominance on the field and had a goal to take a 2-1 lead when Long Vu escaped to receive Cong Phuong's pass before defeating U18 goalkeeper Honda FC. It was also Long Vu who made the goal that set the score 3-1 with the overlapping phase and horizontal stretch for Dinh Thuong to score.
Thus, U17 Vietnam had the second consecutive victory in the training session in Japan. However, the result of winning or losing is not considered a comprehensive measure of expertise for a team. It is important that coach Hoang Anh Tuan has tested, checked and assessed some of the advantages and disadvantages of the players, thereby making adjustments towards the main goal of the U17 Asia Cup 2023.
According to the plan, the U17 Vietnam team has 2 more friendly matches before the end of the training session in Japan. Both upcoming opponents are highly appreciated for their expertise, namely Tokoha University Recruitment and Shizuoka University Recruitment.