Thái Sơn Nam target to enter AFC futsal event's quarter-finals
Việt Nam's Thái Sơn Nam are targeting the quarter-finals of the AFC Futsal Club Championship which starts today at Phú Thọ Indoor Stadium in…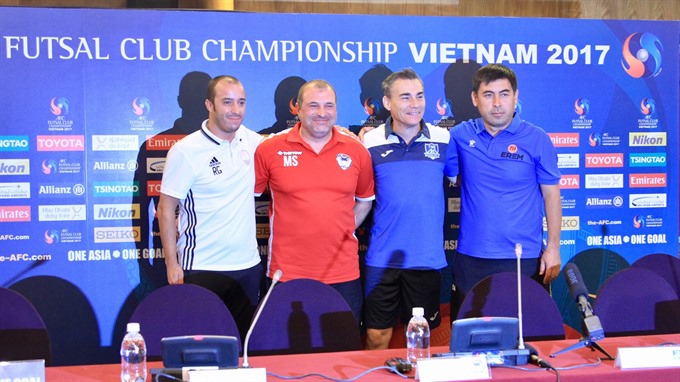 Head to head: Coach Miguel Rodrigo of Thái Sơn Nam (third from left) takes a photograph with three coaches in Group A of the AFC Futsal Club Championship. — Photo performgroup.com
The national defending champions are in Group A alongside Erem of Kyrgyzstan, Aldhafra of the United Arab Emirates (UAE) and Vic Vipers of Australia.
The team will face Erem in the opening match today at 7.00pm.
To prepare for the tournament, Thái Sơn Nam, who have many national team players, have been training in Thailand.
"My players have proved themselves via each match in Thailand. We lost in the first friendly match but won two games later. However, the most important thing in the friendly matches is the performance, not the result," said Spaniard Rodrigo at the press conference head the event.
"The level of Asian futsal is always increasing, from the players, to the coaches and even the quality of the foreign imports. The quality of teams is improved as teams are allowed to add two foreign players. I think that our rivals in the group are at a high level so the fight for two slots to the quarter-finals will be fierce," said Rodrigo.
"Thái Sơn Nam's first goal is to overcome the qualifying round. I don't have much information about Erem but they are a strong team," Rodrigo added.
Thái Sơn Nam particpated in the same event three years ago and won a bronze medal and the fair-play award. With the signing of Lukaian Baptista of Brazil and Hossein Tayyebi of Iran, the team are fancied to do well.
Meanwhile, Erem have also signed two foreign stars, both from Iran.
"We have been preparing well for this tournament. Yes, drawing against the home team is not easy, but our aim is to qualify for the next round. We have a young team, many of whom are national players and all of them are eager to show their abilities." said head coach Amirzhan Mukanov of Erem on the website the-afc.com.
In Group A's other match today, Vic Vipers take on Al Dhafra. While little is known of his team's UAE opponents, Vic Vipers head coach Miltiadis Sakkos revealed he was leaving nothing to chance, saying there are no easy matches.
"We started in March this year. Our biggest challenge was that our league in Australia ended in October so it was not easy to keep our players sharp. But they are young, energetic and raring to go. We have never played against any of the opponents in this group so naturally we are excited by that prospect. Everyone here has the capability to do well and we cannot take anything for granted," Sakkos was quoted as saying on the-afc.com.
His opposite number, Rui Daniel Guimaraes is hoping his side can be a surprise package. "I have been in this competition before so this is nothing new to me but yes, this team is relatively new. But I don't see it as a negative, in fact it is an advantage because the less they know, the better it is for us. We want to do well and we are quietly confident we can produce an upset."