Thái Sơn Nam lose opening match
Việt Nam's Thái Sơn Nam lost to Erem FC of Kyrgyzstan 4-5 in the opening Group A match of the AFC Futsal Club Championship at the Phú Thọ…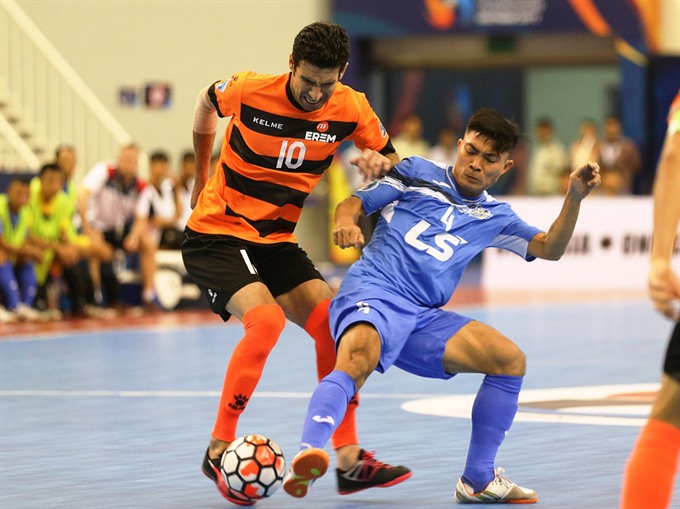 Playing ball: Thái Sơn Nam of Viet Nam and Erem FC of Kyrgyzstan played the opening match Group A match of the AFC Futsal Club Championship in HCM City yesterday. The visitors won 5-4. — Photo zing.vn
Taking full advantage of playing at home, Thái Sơn Nam opened the score in the seventh minute with Phạm Đức Hoà finding the net. The hosts almost doubled their lead after Brazilian Lukaian Baptista dispossessed Iman Ahmadipaeinlamouki to set Hoà up in front of the goal, but the forward failed to test the keeper.
A dip in creative play after the missed chance allowed Maksadbek Alimov and Dilshat Kadyrov to score two goals in the last minutes of the first half for their team.
After the break, home favourites Thái Sơn Nam attacked continuously seeking to score, but ended up conceding a goal in the 31st minute.
The hosts managed to score three more goal, thanks to Lê Quốc Nam and Hossein Tayyebi (two goals), but their opponents exploited errors by the Vietnamese defenders to score two more goals and win the match 4-5.
In the other group A match, Al Dhafrah of United Arab Emirates beat Vic Vipers of Australia 4-1.
Thái Sơn Nam will take on Vic Vipers in the next match tomorrow.
"We are obviously disappointed with the performance, we wanted to win but it was not our night. I must congratulate FC Erem for playing well. We need to regroup and continue with our preparations. We must understand that we are trying to adopt a new style of play, a more sophisticated style which will take some time to achieve success. Today, we were too negative in our play and my immediate aim right now is to ensure the players are positive in the next game. The target is the same; we want to get into the next round," said head coach Miguel Rodrigo of Thái Sơn Nam on the website the-afc.com.
Meanwhile, coach Amirzhan Mukanov of Erem said: "The moment we saw the results of the draw, we knew what we had to do. We spent a lot of time studying Thái Sơn Nam. This is the first time that a team from Kyrgyzstan are playing in this continental competition so obviously, I am very pleased with the result. Credit goes to my players for giving their best. As individuals, as a team, we were excellent. Earlier today, we came to watch the other two teams in the group and I am confident we can get a result, but it won't be easy."