Việt Nam lose to South Korea at Asian Cup
Việt Nam lost to South Korea 0-4 in the third match of Group B at the Asian Football Confederation Women's Cup in Amman, Jordan yesterday.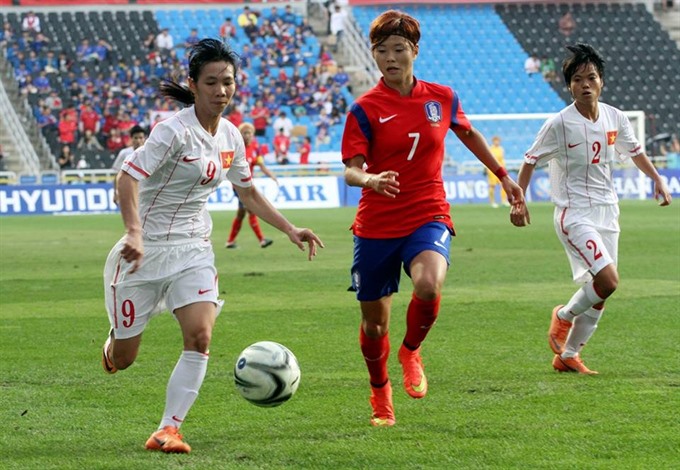 The two teams played with determination from the first minutes of the game. They weren't afraid of clashing to earn the right to control the ball.
In the 12th minute, Việt Nam launched counter attacks but they didn't break South Korea's defence line.
Only two minutes later, from a corner kick in the left wing, midfielder and captain Cho So Hyun coolly struck her header past the goalie Đặng Thị Kiều Trinh of Việt Nam to open the score for South Korea.
Cho's goal was a driving force for the South Korean team to play more aggressively. They put pressure on the Vietnamese side continuously.
In the 24th minute, Nguyễn Thị Liễu decided to try for a long shot goal but the ball struck the cross bar.
In the 30th minute, Vietnamese coach Mai Đức Chung swapped out a player. Striker Nguyễn Thúy Hằng was replaced by Phạm Hải Yến to strengthen the attack line.
Taking full advantage of an error of Việt Nam's defence line in the 37th minute, midfielder Lee Min A defeated goal keeper Trinh to double the score to 2-0 for South Korea.
After the break, Việt Nam worked hard to resist attacks by the South Korean team.
Several minutes into the second half, South Korean Lee Nin raised the score to 3-0.
Then, Việt Nam's coach Chung swapped footballers again and changed tactics in an effort to narrow the gap.
However, taking advantage of a confused situation before the Vietnamese goal, Lee added her name once more to the scoresheet in the 73rd minute.
In the last minutes, Việt Nam still tried their best to seek a goal but they failed.
The match was the third loss of Việt Nam in this event. Earlier, they lost 0-4 to Japan in their first match and suffered their second major defeat of 0-8 to Australia.