Z.com to be national football teams' main sponsor
Z.com, the global brand by Japanese internet services provider GMO Internet Group, has become the Vietnamese national football team's top star partner…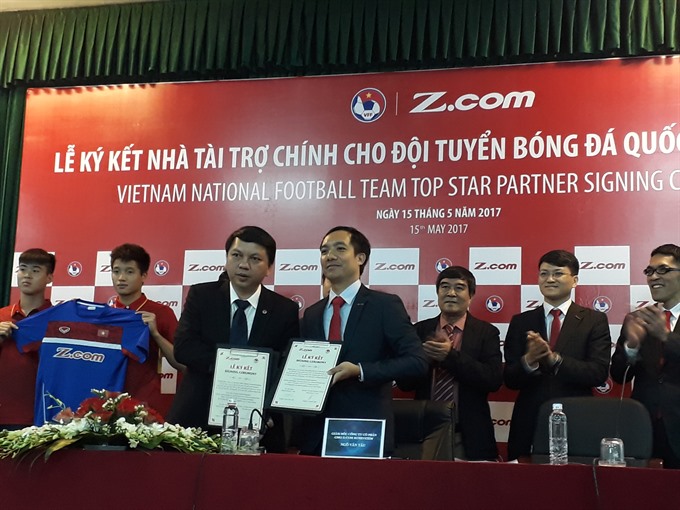 Việt Nam Football Federation General Secretary Lê Hoài Anh (left) and Ngô Văn Tẩu, director of GMO-Z.com Runsystem (right) at their partnership signing ceremony. — VNS Photo Khiếu Thanh Hà
As per the contract signed by the Việt Nam Football Federation and Z.com, the company will focus on the national men's and women's senior teams, and the national U22 squad.
Ngô Văn Tẩu, director of GMO-Z.com Runsystem, said it was an honour to continue as the main sponsor of the national football squads.
"Last year, we encouraged and fully supported all teams who tried their best, played great football and reached positive results in many tournaments, bringing happiness to local fans," Tẩu said. "That is what Z.com wanted from the partnership. We decided to continue partnering with them for another year. We hope to see the players' efforts for national football."
Apart from finance assistance, Z.com has also pledged to promote the teams' activities on its website and consider providing other support in case Việt Nam wins in regional and Asian competitions.
Nguyễn Hữu Thắng, head coach of the men's team, said he hoped that with Z.com's support his players would get the opportunity to participate in training camps in Japan, or play with strong Japanese clubs, who could be invited to Việt Nam, so that his players could improve their experience and quality of game.
Z.com is also one of the sponsors for national striker Nguyễn Công Phượng, who will be the company's image ambassador for the second straight year.