Hà Nội aim for historic AFC Cup first
HÀ NỘI Coach O Yun Son of North Korean side April 25 Sports Club (4.25 SC) maintained an air of mystery around his team ahead of the AFC Cup…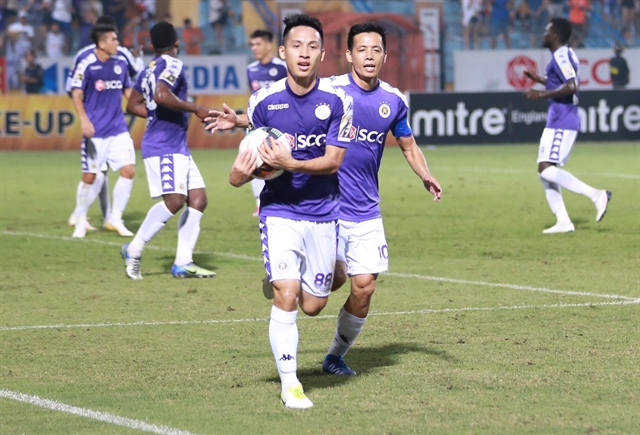 While he was guarded about his team's chances, O said he knew which Hà Nội players to watch out for at Hàng Đẫy Stadium.
Hà Nội are ASEAN Zonal champions while 4.25 SC are the East Zonal winners. While it's the Vietnamese side's first appearance in the showpiece final, the North Korean side played in the same game last year, losing out to Altyn Asyr of Turkmenistan.
In a press briefing yesterday in Hà Nội, O said 4.25 and Hà Nội were strong teams as both had advanced to this stage of the tournament but tt was difficult to say who was stronger.
"4.25 players are really fast and strong as they are training in the environment of military which orders great physique and strict discipline. They are good in attacks too and each of them has their own remarkable abilities," said O, who confirmed that six national team players in his squad would play tomorrow but refused to predict a score.
O said he had researched Hà Nội but found little information, bar that Nguyễn Văn Quyết and Nguyễn Quang Hải were danger men.
"They will be in the starting squad, leading Hà Nội to play in attack and they may score tomorrow," he said.
Like his coach, midfielder Won Song shared little about his team.
"We are confident for a win because we are a united team and we support each other in great way," he said.
On the home side, coach Chu Đình Nghiêm has also studied mysterious 4.25 SC.
"There is almost no information about 4.25. We just know they are strong although they have no foreigners in their team. And they press really well," said Nghiêm.
"Their No 13 (striker Rim Chol-min) and 18 (striker Kim Yu-song) are good players and we need to keep our eyes on them."
Kim has 23 AFC Cup goals to his name in the past three years and has netted eight times this year.
Rim has also impressed in the current campaign. The forward has weighed in with three goals and is strong in the air.
Coach Nghiêm is facing a familiar problem of a shortage of players.
"Left defender Đoàn Văn Hậu moved to the Netherlands leaving a hole in the defence while some players who could replace him are not in the best condition. Phạm Văn Nam has a problem with his knee, Phạm Đức Huy has not recovered 100 per cent while Nguyễn Văn Dũng is suspended because of two yellow cards," said Nghiêm.
"However we have to find a solution," he said.
Nghiêm also said that Hà Nội, who won the V.League title last week, were successful due to their team-building style, not depending on any individual player. It would be a mistake if 2.45 SC pay much attention to midfielders Quyết and Hải as it would be chance for other stars to shine, he said.
"Hà Nội are in a good mood after winning the domestic league. We still have two more to go, the National Cup and the AFC Cup. Now, we will give priority to this continental tournament first to have best result," he said.
"They are tough but we will step by step remove any obstacles during the game."
At the briefing, Hà Nội midfielder Đỗ Hùng Dũng spoke of his team's surprise to have made it one step from the competition's final proper.
"It is a surprise when we are in the Inter-zonal final as our target at the beginning was winning the ASEAN Zone only.
"In the coming match, our rivals are stronger as they are No 45 in Asia (Hà Nội are No 57). They play 4-4-2 and attack well from the wings. We have to work hard if we want to win," he said.
The match will begin at 7pm and be broadcast live on Fox Sports.