Head coach Ijiri Akira: "Women Young Vietnamese football players have the determination and passion for football"
In an interview with the website of VFF, Mr. Ijiri Akira – Head coach of U19 Women National team said that he and his colleagues are recruiting young players in some localities, with the desire to discover new generation for the national team.

01/07/2020 17:29:56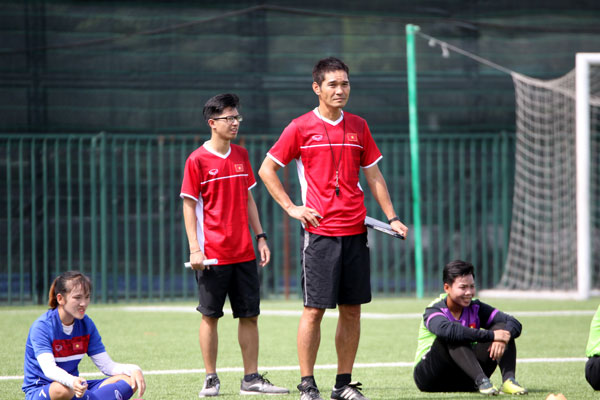 Can you talk about the result of the recent recruiting period?
Mr. Ijiri Akira: This year is very lucky for me when found out 250 players. They are all new and maybe never play football before, however, they have a high spirit and I also thank the support from their family. This year, VFF held a great recruit event both in the North and the Middle of Vietnam such as Nghệ An, Huế, and Quảng Ngãi.
How do you evaluate the new players?
Mr. Ijiri Akira: I have been working in Vietnam 1 year, during the recruit period, there is an issue that makes me feel difficult is the players usually start playing very late, around 13 or 14 years old. However, I also have some suitable adjustments and methods for them.
Which is the difference between Vietnam Women Football and Japan Women Football?
Mr. Ijiri Akira: The most regretting is the opportunity for women football still limited. Football in school is my ambition when working in Vietnam.
Women's U19 National Championship has just finished, what do you think about this tournament?
Mr. Ijiri Akira: I spent the time to watch all the matches at this tournament, in which the most attract me is Hanoi Watabe and Than Khoáng Sản Vietnam. These are two teams that have a high-level both in players or coaches. Their training programs have a good spirit and updating tactics that they learned from me. And I very happy about that.
What makes you impress about Vietnamese Women's Football during the time in Vietnam?
Mr. Ijiri Akira: It is the time when I came to Sơn La. They may be the most special team in Vietnam. They have a highly competitive spirit even the conditions are still difficult.
Can you talk about the coming plan of the U19 national team?
Mr. Ijiri Akira: Due to the effect of Covid-19, many plans have to change. I and head coach Mai Đức Chung discussed many time and we agreed to push the U19 players to the national team, therefore they can learn more and gain more experience.
–         Thanks