Head coach Park Hang-seo donates 5.000 USD to COVID-19 prevention Fund
Follow the exhortation of Government and the Central Committee of the Vietnam Fatherland Front, on the afternoon today (26th Mar), the head coach of Vietnam National Team Park Hang-seo donates 5.000 USD to Covid-19 prevention Fund.

26/03/2020 16:05:50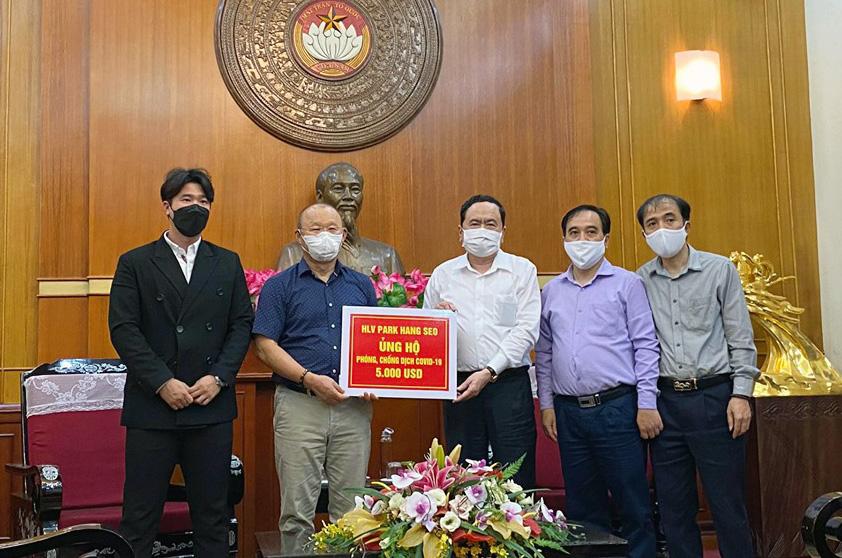 Head coach Park Hang-seo share: "Vietnam and the whole world are fighting with the coronavirus. For me, during this time, I only walk inside the area of VFF and do the social distancing. I hope that my donation will useful to the people who are affected by the coronavirus. In the future, I always willing to join in community activities like this time. Let's do our part to stop the spreading of Covid-19".
Before that, head coach Park Hang-seo joined the challenge "Wash your hand" which was kicked-off by VFF accompany with Health Minister to encourage all citizens to keep themselves safe and healthy. Besides that, the players and clubs in the whole country had the actions to support the movement fighting Covid-19.
Many exhortations from the players were spread to the community such as "FightingVietnam"; "Vietnam defeat Covid-19", "We can do it", "Come on Vietnam",… The support of head coach Park Hang-seo, players, and clubs attracted many spectators to fight again Covid-19 epidemic.