Đà Nẵng defeat Sahako in national futsal champs
Đà Nẵng beat Sahako 5-2 in the final round of the national futsal HDBank championship, held yesterday at Nha Trang University Gymnasium.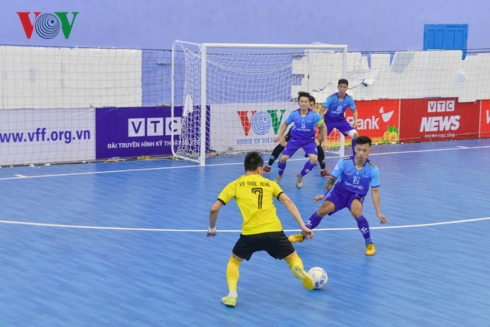 Sahako could not take advantage beating Thái Sơn Nam and Sanna Khánh Hòa earlier in the tournament and were beaten handily by Đà Nẵng.
Đà Nẵng previously beat Quảng Nam 8-6. They enjoyed good play from Vũ Quốc Hưng, golden ball of Việt Nam futsal 2018.
"I play for Đà Nẵng now so I want to give the best of me to this team," said Hưng. "For me, being able to play is to devote 100 per cent of my energy. But as we are human, we have ups and downs, and no two matches are alike."
New face Thịnh Phát quickly scored the opening goal for Đà Nẵng. Soon after, Yzen Niekdam raised the score to 2-0.
In second half, taking advantage of goalkeeper Đoàn Minh Quang's mistake, Nguyễn Trần Duy narrowed the gap to 1-2.
Phước Hạnh was able to score an equaliser, but Duy's second goal made it 3-2 to Đà Nẵng.
Although Sahako pushed forward, Văn Hiếu and Thế Tiển scored to make the score to 4-2 and then 5-2 to Đà Nẵng.
In the later match, Tân Hiệp Hưng defeated Cao Bằng 5-1, with Trần Tấn Đông contributing one goal for the winning side.