Community football project gets AFC Awards
The Football for All in Việt Nam (FFAV) project, funded by the Football Association of Norway, won the NGO and Individual Category at the Dream Asia…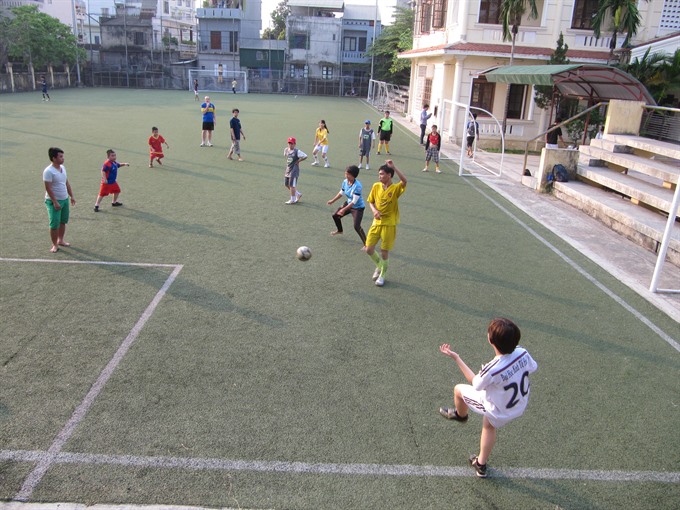 Kids join in a football training at the Football for All in Việt Nam (FFAV) in Huế City.
This is the second time FFAV has received the award. Its last victory was in 2015.
At the ceremony, FFAV director Nguyễn Hoàng Phương was honoured with an individual award for his excellent contribution to AFC football.
FFAV was established to help build up the central province as a model for community football development in Việt Nam.
The Dream Asia Award aims to promote and raise awareness about social issues and the power of the game as a fantastic tool for change.
"We are deeply honoured to receive this award once again. The acknowledgement of AFC by awarding our organisation the Dream Asia Awards asserts the values which FFAV has created in football movement," said FFAV advisor Anders Krystad.
"It also shows that the people who built a solid precedent for the football movement are known and recognised," he added.
"FFAV had a great contribution to football movement in Thừa Thiên-Huế and the whole country after a 14-year operation in the central province," said general secretary of Việt Nam Football Federation, Lê Hoài Anh.
"The FFAV model has helped establish many football clubs with the participation of numerous children. FFAV has also supported kids with life-skills through football activities," Anh said.
He said the success of FFAV will continue to develop school football skills and the human resources for professional football..
FFAV works to develop children's non-competitive grassroots football for 6 to 15-year-old children. The programme especially focuses on disadvantaged children and promotes the development of women's football. FFAV uses football activities as a tool to integrate fundamental life skill activities so they can have a useful playground to balance between learning and playing.
FFAV has established 184 football clubs with the participations of more than 17,000 children in 1,541 football clubs since it was launched in 2003.