France progress with 4-0 win over Việt Nam
Great effort, huge determination and wonderful supporters could not save Việt Nam from a 0-4 loss to France in their second group round match at the…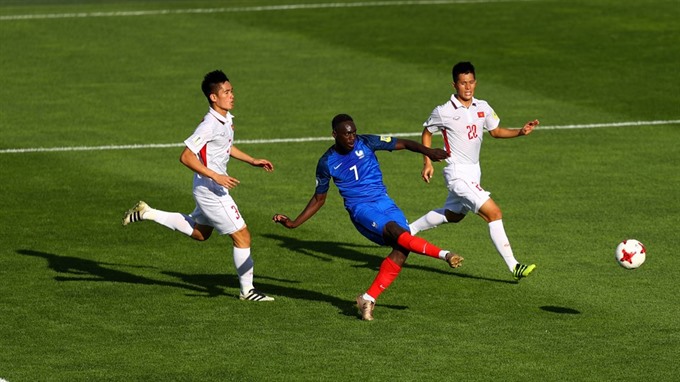 Jean-Kevin Augustin of France (centre) scores his teams third goal with pressure from Huỳnh Tấn Sinh and Trần Đình Trọng (left) of Việt Nam during the FIFA U-20 World Cup Korea Republic 2017 group E match at Cheonan Baekseok Stadium on May 25 in South Korea. — Photo fifa.com
The European champions needed just 18 minutes to size up their Vietnamese opponents, before they got their opener from Marcus Thuram, son of former French defender and legend Lilian Thuram.
The eight-time winner should have drawn first blood within five minutes itself, but Jean-Kevin Augustin opted for an audacious 'Panenka' style penalty after they were awarded a spot kick, which deflected off the bar.
Thuram took full advantage of his 1.90m to push in a header beating Vietnamese keeper Bùi Tiến Dũng.
Augustin scored a double before the break. Denis Poha added an elegant fourth after a rapid attack.
Being smaller and shorter than their French rivals, Việt Nam's challenge became greater when Trần Đình Trọng received a second yellow card.
With a person short, the Southeast Asians assumed a defensive mode and managed to not concede a single goal until the end.
The second win helped France go through to the Round of 16, while Việt Nam must now beat Honduras in the last match on Sunday to progress to the next round.
"Việt Nam still have the chance to qualify for the knockout round," said coach Hoàng Anh Tuấn at the post-match conference.
"France are too strong so our loss was understandable. However, I am not satisfied with the players. They lacked confidence and gave away two easy goals. The second half was better, and if they could do what that did near the end of the game, it would be a better situation for us," Tuấn said.
"We will decide our fate in the upcoming match with Honduras," he said.
Coach Ludovic Batelli of France said his team did not start well, having wasted a penalty, but he was happy with the result, as his team could play freely in their last match.
Compared with their two rivals, Batelli said Honduras players were faster and had stronger physique than the Vietnamese. It will be difficult for Viet Nam to go on if Honduras beat New Zealand in the later match.
Until now, France are the fifth team to qualify for the next round after two matches. Earlier, Venezuela, Zambia, Uruguay and hosts South Korea booked their slots.