VN draw with Afghanistan, qualify for 2019 Asian Cup
Park Hang-seo wanted a win in his debut match and Vietnamese players wanted a win under their new coach.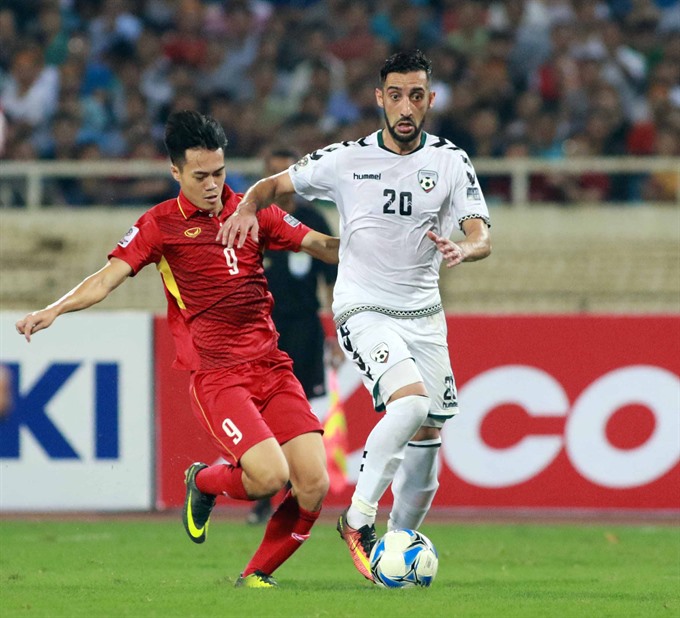 However, the Afghanistan team did not let that happen, holding Việt Nam to a goalless draw in the Group C of the 2019 Asian Cup qualification yesterday in Hà Nội.
The visitors did an even better job than what their coach Otto Pfister had planned.
Prior to the game, German Pfister did not show much appreciation for Việt Nam who were No 121 in the world, some 30 steps higher than his team.
He said that even with new coach but the same players Việt Nam would not be very different from those who drew 1-1 with his team months ago in the first leg match.
He was right.
Park had been working just a month since he signed a contract with the Việt Nam Football Federation and only one week to gather players based on the advice of the former coach Mai Đức Chung and the VFF's coaching council.
The South Korean expert said his team was ready to beat Afghanistan but in fact it was a match that the hosts had to resist strong attacks from the visitors who were better in both speed, form and physique.
Just eight minutes after the first whistle, Zubayr Amiri nearly opened the score with a powerful header but goalkeeper Nguyễn Tuấn Mạnh stopped it.
Midfielder Đinh Thanh Trung of Việt Nam answered with a free kick straight to the net but he could not beat goalie Hamidullah Wakili.
Striker Nguyễn Công Phượng had a low pass to the box but his teammates could not convert it an opener.
Afghanistan played a pressing game at high speed when it was half way into the first half. They had two chances by Haroon Fakhrudin and Milad Salem near the break but keeper Mạnh denied all.
The second half was even worse for the hosts when they had to resist consecutive attempts from Afghanistan, especially in 10 last minutes. Meanwhile the host strikers could not find any hole to dig into Wakili's area.
Amiri again almost made more than 8,000 Vietnamese supporters in the stands hold their breath with his shot that hit the right post in the 85th minute.
From that moment to the end, Vietnamese players played a defensive game trying to ensure a draw. Striker Nguyễn Anh Đức received a yellow card for time wasting.
"It is a pity that we could not grab three points from this match. My players did not play as well as they did in training," Park said at the post-match conference.
"I had to suffer a little pressure in this match, but I and my players worked hard for the game. (A draw) is an acceptable result because we have earned the (Asian Cup) slot. We need more time together and players could familiarise themselves with a new playing style," said Park who finally thanked his players for their performance yesterday.
"I am not happy with the result of the match because in 90 minutes Việt Nam had only one threatening chance but Afghanistan had four clearly opportunities," said Pfister, who congratulated Việt Nam for their berth in the Cup finals.
With one point from the game, Việt Nam are placed second in the group with nine points. Jordan who beat Cambodia 1-0 in an early match at the National Olympic Stadium in Phnom Penh take the top with 11.
Jordan and Việt Nam sealed their berths at the Cup finals which will be held in the United Arab Emirates in 2019.
It was the best ever result for Việt Nam as it was their first official ticket of the team. Earlier, they had a chance to compete in the Cup in 2007 as the hosts.
The top two teams will play each other in the last group round match on March 27. However, the result of the game is just to identify the group's leading team.