Việt Nam win second match, through AFF Championship's semis
Việt Nam advanced to the ASEAN Football Federation Women's Championship's semi-finals after destroying Indonesia 7-0 in Group B match on Sunday in…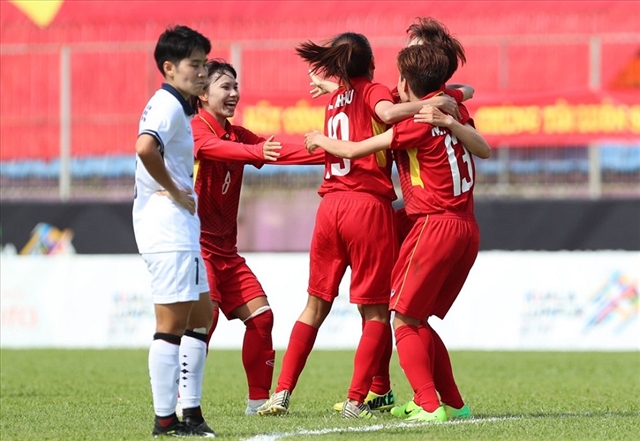 Captain Huỳnh Như scored a hat trick, Nguyễn Thị Tuyết Dung hit two while Nguyễn Thị Bích Thuỳ and Phạm Hải Yến netted one each for the team who topped the group after two matches with six points and 17 goals.
In the first match Việt Nam hammered Cambodia 10-0.
Coming to the tournament Việt Nam are considered one of title favourites and they proved their power from the early stages.
The Southeast Asian Games winners opened the score after just 40 seconds when Thuỳ tapped home from close range.
Striker Như secured her first hat trick at the tournament at the 19th, 40th and 43rd minutes, and was the second Vietnamese player to score three after Thuỳ found the net three times against Cambodia.
Yến's goal was sandwiched between Như's to give Việt Nam a 5-0 in the first half.
Midfielder Dung who was the 2018 Golden Ball holder scored the sixth goal from a corner kick in the left. She has been well known and praised by FIFA after she scored two goals by two legs from two corners in a match against Malaysia at this championship in 2015.
Her second goal came just a minute later as Dung easily got into the Indonesian box and scored without any resistance.
With two wins, Việt Nam ensure a place in the knock-out round.
In the other match of the Group, Myanmar trounced Cambodia 10-1.
Việt Nam will play Myanmar, another title candidate, in their last group round match on Wednesday.
On Saturday the Philippines defeated East Timor 7-0 in Group A's second match while hosts Thailand won 8-0 over Singapore in their first encounter.
The Philippines, who opened their campaign with a 3-0 victory over Malaysia last Thursday, are on top of the table. They will have a rest day today and watch Malaysia, at fourth position, vs bottomed Singapore and second-placed Thailand vs East Timor who are at third.