Việt Nam eye first World Cup win against NZ
Việt Nam are ready for their first match against New Zealand in a Group F tie of the FIFA U20 World Cup in South Korea today.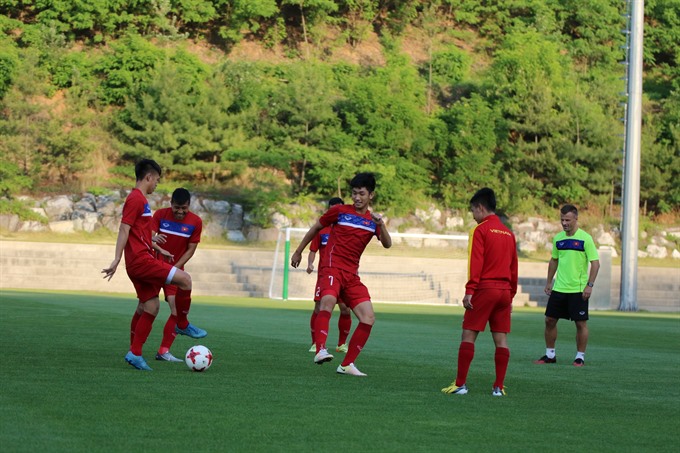 Vietnamese players train on May 21. They will play New Zealand today, their first match at the FIFA U20 World Cup's Group F
At a press conference yesterday, coach Hoàng Anh Tuấn said he was proud to be with his players for the finals in Cheonan City and confirmed Việt Nam's determination to put on a good show, despite being debutants.
"It is our first time at the World Cup, where we have a chance to play teams from leading football countries in the world. It will be a strong push for Việt Nam. It will be a big challenge for us, but we will try our best," said Tuấn.
"My players can attack, as well as defend, but I will not say anything here. Please wait to see how we perform," Tuấn said, when asked about Việt Nam's strategy for the match against New Zealand this afternoon.
Tuấn and his assistants also spent some time watching the New Zealand team play.
He said New Zealand players were bigger and taller, but it seemed they were not as "dangerous" as they were portrayed. What's of concern to Việt Nam is if they are confident and are able to follow what they learnt at training.
The Việt Nam Football Federation's technical director Jurgen Gede said Việt Nam had worked hard and would have a suitable tactic to beat New Zealand.
He said the match would be a crucial one, as it would decide if Việt Nam could make history or not.
New Zealand is the stronger team with a higher world ranking. Also, the team includes national players who have experienced the U20 World Cup atmosphere before.
Gede said the Vietnamese players must focus on their match, as they did at the Asian tournament. Việt Nam needs to stop New Zealand's high balls, as well as their attack from the wings, while taking full advantage of counter-attacks or free kicks to score.
The German affirmed that Việt Nam could get points, if the players strictly followed the plan of their coaches.
Coach Tuấn said even draw in the first match would be acceptable.
On the other side, New Zealand coach Darren Bazely said he was impressed with the way Việt Nam earned their World Cup ticket. He said it proved Việt Nam was a strong and well prepared team.
Bazely said he and his players had watched clips of Việt Nam matches and believed it would be difficult to beat their rival, who have a chance of advancing to the next round.
He said his team had beaten Myanmar, another Southeast Asian team, in the previous World Cup, where New Zealand had made it to the last-eight round two years ago, but Việt Nam were totally different.
He said his players had been asked to train well and show a positive attitude while competing.
Captain Noah Billingsley, who played and scored in the last World Cup, was confident his team would be able to repeat their achievement this year.
He said his team was under pressure, but it was good for New Zealand. It was great to make history, but New Zealand will not be satisfied with that, he said. Strong teams in their group would force them to overcome obstacles and make history, he added.
The match will start at 6pm Hà Nội time with Alioum Alioum being the main referee and Evarist Menkouande and ông Elvis Noupue, all from Cameroon, as assistants.
The World Cup was kicked off on Saturday. Asia has five representatives.
Yesterday, Japan came from behind and claimed all three points in a 2-1 win over South Africa in Group D.
Hosts South Korea began their campaign with a victory thanks to goals from Lee Seung-woo, substitute Lee Min-hyeok and Paik Seung-ho in a hard-fought 3-0 win over Guinea in Group A.
Mohammad Mehdi Mehdikhani secured an opening win for Iran, as his late goal saw off Costa Rica 1-0 in Group C.
Saudi Arabia will play Senegal in Group F today.