Hồng Lĩnh Hà Tĩnh win promotion to V.League 1, Phù Đồng relegated
Hồng Lĩnh Hà Tĩnh won the V.League 2, the LS Cup 2019, and earned promotion to the V.League 1 for next season.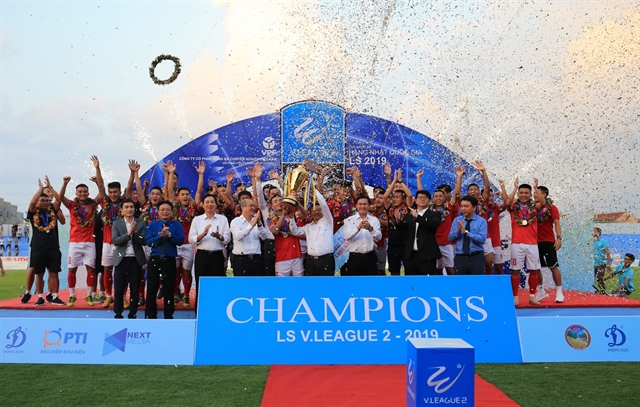 In the last match of the first division tournament on Sunday, the former Hà Nội FC B team came from behind to defeat Long An 2-1 on home turf and received their trophy.
Dương Anh Tú opened the scoring for visiting Long An at the 40th minute.
Phạm Tuấn Hải netted a double for the hosts to end the league on a high point for Hồng Lĩnh Hà Tĩnh, who finished on 53 points.
Phố Hiến FC, who drew with former V.League 1 side Cần Thơ 0-0, finished second with 40 points. They will play against the 13th-placed team of the V.League 1 in a playoff. The winner of the match will compete in the V.League 1 next season.
Currently Thanh Hóa are 13th in the V.League 1, which will run for two more matches and end on October 23. The playoff will be held on October 26.
Phù Đổng FC, who drew with Đồng Tháp 2-2 on Sunday, are the bottom team with 19 points. They will be relegated to the Second Division in 2020.