Martin Lo's journey from Australia to Việt Nam U23
Midfielder Martin Lo returned to Việt Nam last year to develop his football career at the age of 21, and his efforts have paid off with a call-up to…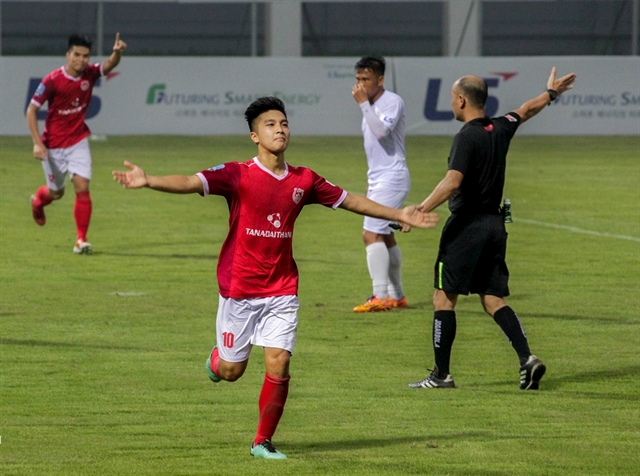 Lo, now 22, is the only overseas Vietnamese player to have been named in the Việt Nam U23 team ahead of their friendly against Myanmar on Friday.
The Australian-born Vietnamese midfielder plays for Phố Hiến FC in the Việt Nam second division, V.League 2 and his caught many an eye with impressive displays.
He started his career in the A-League with Western Sydney Wanderers FC and then played for two semi-professional Australian teams, and in 2014 was tipped as a player to watch in the A-League.
In June last year, Lo returned to Việt Nam to train with Becamex Bình Dương with the hope of playing in the V.League 1.
"I haven't found any players with as good tactical thinking and skill as Lo. I regretted that Bình Dương didn't sign him as Bình Dương have a policy of using young players trained by Bình Dương so I introduced him to Phố Hiến FC," said former coach Dương Trần Minh Chiến of Bình Dương.
After three months of training with Phố Hiến, French technical director Philippe Troussier advised Lo to apply for Vietnamese citizenship and sign a contract with Phố Hiến.
After being granted Vietnamese citizenship, Lo became a key player for Phố Hiến.
The attacking midfielder has scored four goals to help his team rank third out of 12 teams.
Coach Hứa Hiền Vinh of Phố Hiến said Lo has won his teammates over thanks to his ability on the pitch and his efforts to fit in.
"Lo trains very hard and always tries his best in competition. He can play with both feet. He is a player with a good sense of tactics," Vinh added.
Following strong performances this season he was selected by South Korean coach Park Hang Seo to be part of the U23 team.
The friendly match, scheduled to take place at Phú Thọ Stadium, will serve as preparation for both sides ahead of the Southeast Asian Games in the Philippines in November.
The team convened on June 2 for training.
"I dreamt of playing for the national team but I didn't dare to think much about that as I want to focus on playing for Phố Hiến well with the aim of Phố Hiến getting promoted to the national top flight. I thought that if I can play in the top national league, I will have a chance to be selected to the Việt Nam national team," Lo told tuoitre.com.vn.
Earlier, speaking with goal.com about his adaptation to the domestic football environment, Lo said: "I studied thoroughly about Vietnamese football culture and the way of playing football in Việt Nam. I was also warned that I would meet many difficulties here. However, these difficulties are chances to help me develop more and I can adapt with any football environments".
Pride
Lo began to play football at seven years old, however the youngster began life as a goalkeeper before moving up the pitch.
While at Western Sydney, he trained with Japanese international Shinji Ono and Aaron Mooy, who now plies his trade with Huddersfield Town of England.
"I learnt much from them and I think that is a valuable experience to help me play well in Việt Nam," Lo told vtc.vn
Lo said the success of Việt Nam in recent international tournaments inspired him to return home to play football.
"I am also a Vietnamese and I am very excited and proud of Vietnamese national teams. They are more and more progressed," said Lo.
"For me, seeing Vietnamese succeed is my happiness. It proves that Vietnamese can play football well," Lo added.
Lo also sees the love for football Vietnamese have.
"I think in Việt Nam, people are more enthusiastic about football than other countries. They are proud of Việt Nam national teams' results in international events. In Australia, it is hard to be like that because residents are from many different countries. Not everyone who likes football supports Australia so it is hard to have the large number of fans like Việt Nam," said Lo.
He is also impressed by the quality of the V.League 1.
"The V.League 1's quality is higher than I thought. I was surprised with its quality. I can say that in Việt Nam people are doing football well," said Lo.
"I think there are players coming to Việt Nam and they think that they are good enough to succeed. This attitude doesn't help them. I think they must to come to Việt Nam to learn about Việt Nam first as football and life here is very different," Lo added.
In Việt Nam, Lo's biggest obstacle is the language as Lo is not good at speaking Vietnamese.
"I am still learning Vietnamese and I can speak Vietnamese better now. Besides, the way of life between Australians and Vietnamese is very different and football is also like that. I am trying to adapt myself to the new surroundings," said Lo.