FIFA chairman congratulates VFF deputy chairman Tuấn on re-election
FIFA Chairman Gianni Infantino has sent his congratulations to deputy chairman of Việt Nam Football Federation (VFF) Trần Quốc Tuấn, who was…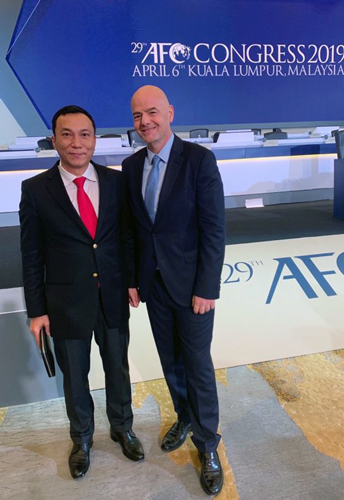 FIFA Chairman Gianni Infantino (right) and deputy chairman of Việt Nam Football Federation Trần Quốc Tuấn.
Tuấn was re-elected to the AFC Executive Committee at the 29th AFC Congress, which concluded in Kuala Lumpur, Malaysia over the weekend.
Tuấn will work for a four-year (2019-23) term.
In his letter, Infantino showed his appreciation for Việt Nam's football achievements in recent years, which contributed to the common development of Asian football.
Infantino also said that with Tuấn's role in the AFC, he would help Việt Nam have more opportunities to promote football in the country and contribute to the progress of regional, continental and world football.
Meanwhile, AFC chairman Salman Bin Ibrahim Al-Khalifa said with the deep knowledge of Tuấn on issues Asia is facing, Tuấn would have precious contributions to develop Asia football stronger.
Việt Nam were runners-up at the 2018 AFC U23 Championship, finished fourth in men's football at the 2018 Asian Games, won the 2018 AFF Suzuki Cup and reached the quarter-finals at the 2019 Asian Cup.
According to Tuấn, although Việt Nam gained many outstanding results, it was only the beginning.
"Our task is to maintain and create many resolutions to develop Vietnamese football comprehensively so that we can make stable results," said Tuấn.
Tuấn also affirmed that he would try his best to help Asian football grow after his re-election.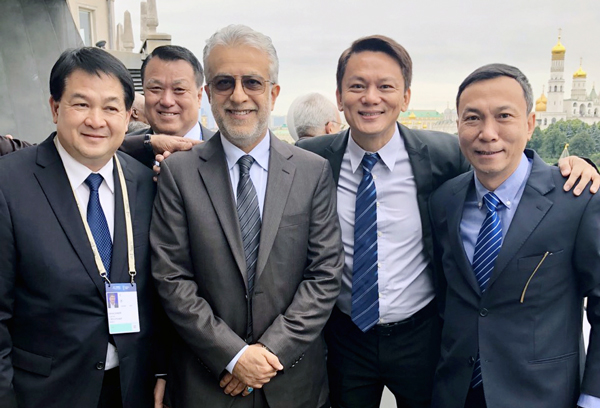 Earlier, Tuấn was voted a co-opted member of the AFC's Executive Committee for the 2011-2015 tenure, the first time in history Việt Nam was represented on the committee.
He was then voted on to the committee again for a three-year (2017-2019) term.
During his tenures, Tuấn was valued as a dynamic member who contributed to the AFC's key plans including the decision to raise number of teams in the Asian Cup from 16 to 24 from 2019.
He also contributed to adjusting competition rules for the AFC Cup and AFC Champions League to ensure a level playing ground for teams from different areas.