Việt Nam top group after two wins
Việt Nam topped Group I, which saw the hosts beating Macau 8-1, in the second-round match of the Asian Football Confederation U23 Championship…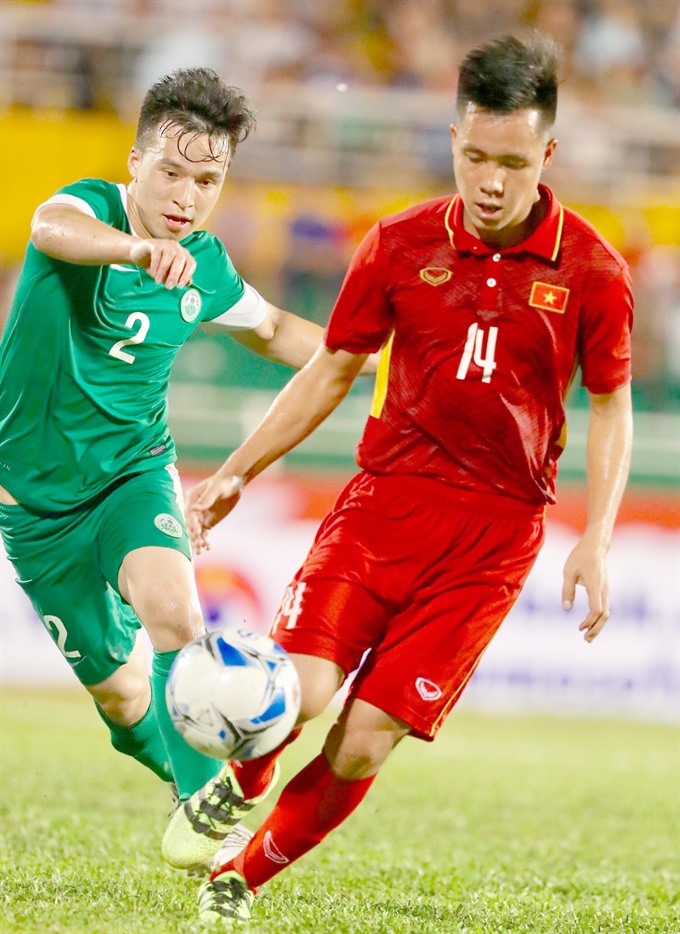 Sitting pretty: Lê Thanh Bình of Việt Nam (right) tries to pass Macau defender Hun Seng Kuai during their AFC U23 Championship qualifier yesterday in HCM City.
In an unexpected result, East Timor made a big bang as they held title favourites South Korea to a 0-0 draw.
Facing a much weaker team, which is ranked 182nd in the world, 49 ranks lower than Việt Nam, coach Nguyễn Hữu Thắng made eight changes in his line-up, compared with the team that played during the first win over East Timor two days ago.
However, his altered team put in a good performance.
They needed just three minutes to open the score.
Midfielder Nguyễn Văn Toàn's shot was denied by the goalkeeper, but the ball bounced back towards Lê Thanh Bình, who made no mistake and scored the first goal.
Toàn then netted in a goal just four minutes later with a long finish to the far corner.
National idol Nguyễn Công Phượng made it 3-0 from a penalty shoot-out at the 10-minute mark.
Ten minutes later Bình completed his doubles after his solo performance from the left wing.
Midfielder Lương Xuân Trường, who was sidelined in the first match because of a red card last year, marked his name on the board after converting a penalty into the fourth goal for the hosts.
Defender Hoàng Văn Khánh headed in at the 27th minute to help Việt Nam close the first half with the scoreboard reading 6-0.
The Vietnamese players continued to dominate the game in the second half. They netted twice in the second half, with midfielder Nguyễn Phong Hồng Duy and Văn Toàn scoring in the process.
Macau, despite great efforts, failed to catch up with the host team.
They, however, found a goal to narrow the result when the Vietnamese defenders slackened a bit.
Ng Wa Keng ran quietly to the back of the Vietnamese players to receive a ball. He slowed down, sliced on the field and headed it in straight into the net after defender Khánh missed the ball in his attempt to head it out.
It was the first goal for Macau after two matches. In the first match on Wednesday, they were defeated 0-10 by South Korea.
Meanwhile, it was the fourth win for Việt Nam against Macau in their meetings so far. In their last match, also at the Asian U23 qualification, Việt Nam had won 7-0 in 2015.
After two wins, Việt Nam lead the group with six points.
In the earlier game, East Timor pulled off a major surprise at the Thống Nhất Stadium.
Last year's first runners-up South Korea also made eight changes to their starting line-up, with the intention of resting their key players for the final group match against the hosts tomorrow.
Despite the changes, Korea still controlled possession and created several chances to score.
However, their strikers could not break through the East Timor defence, who played with steely resolve.
Park Seong-bu and Cho Young-wook tested East Timor goalkeeper Fagio Augosto da Silva Perreira several times in the second half, but a goal was not forthcoming.
"It's really a surprise result because (South) Korea are a very strong team in Asia. They had many tall and good players; they used the long ball and my players are short, so I think that my team is lucky today," said East Timor coach Kim Shin-hwan during the post-match briefing.
"I agree that our trip in (South) Korea before the tournament proved useful, and we continued to train hard after that using the same methods. I think that one of the main reasons we got a point today is the high spirits displayed by our players. They showed good motivation in this game," Kim was quoted as saying on the-afc.com.
South Korea, who were expected to top the group, are now placed second with four points.
South Korea coach Jeong Jeong-yong was disappointed with the unexpected result.
"That's football, sometimes you play well, sometimes you do not. We had many chances to score, but my players missed them all. Timor-Leste had a good and deep defensive line and a good combination today, congratulations to them," he said.
When asked about his plan for Việt Nam, Jeong said the result was not good for his team before the last game. However, he would require his players to train hard and have a good preparation for the Việt Nam game.