Việt Nam beat Myanmar 2-0 in U23 friendly
Việt Nam beat Myanmar 2-0 in a friendly match for U23 players which was a test for both sides ahead of the upcoming Southeast Asian Games in the…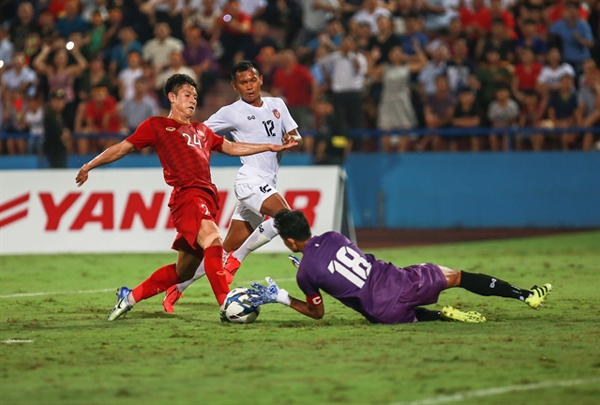 Triệu Việt Hưng and Nguyễn Tiến Linh scored one each at the Việt Trì Stadium in Phú Thọ Province.
With more than 16,000 supporters in attendance, the hosts played counter-attacking football to resist Myanmar's strong attempts from the opening whistle. Their tactics blocked Myanmar's attacks and stopped them entering goalkeeper Bùi Tiến Dũng's area.
The hosts opened the score in the 15th minute.
Hồ Tấn Tài sent the ball in from a free kick. It touched the ground before reaching midfielder Hưng who was out of the box but his shot was strong enough to find home.
They gradually dominated the visitors, tearing the defence to pieces.
Trọng Hùng and Hoàng Đức had their chances but their finishes hit the post and the bar, respectively.
Both teams tried to improve in the second half with player changes but it was Việt Nam who saw the best results.
Substitute midfielder Bảo Toàn was the first to pressure Myanmar's defence with his low finish near the box. Keeper Phone Thitsar Min was at full stretch to save the shot in the 58th minute.
Linh broke the off-side trap in the 67th minute but his attempt to loop the ball over Min did not succeed. Five minutes later he had a second chance with a close-range finish but Min reacted well to protect his net.
Linh was successful in his third attempt, sending the ball home with ease as Min failed to block the near corner.
It was plain sailing for Việt Nam in the 77th minute when Win Naing Tun received two yellow cards within 60 seconds as he fouled two Vietnamese players.
However the hosts could not get a third goal despite numerous attacks.
The most threatening one went to Martin Lo who came on the field in added time.
His shot however hit the bar and went wide.
Myanmar also had their own attacks but all were blocked before reaching keeper Dũng, giving him little to do during the match.
Việt Nam also played with 10 men in the last seconds of added time when midfielder Nguyễn Trọng Huy was handed a red card after a tackle on Lwin Moe Aung.
"My players did a good job today. I am pleased with their performance. The only thing is the red card that we will have to talk about further," said coach Nguyễn Văn Đàn of Việt Nam.
Meanwhile coach Velizar Popov of Myanmar said he was impressed with the playing style of the hosts who played pressing with one touch tactics.
He believed that Việt Nam were top candidates for the SEA Games crown but promised his team would be different when two teams meet again in November.