Acecook Việt Nam to sponsor national football teams
2018-04-05 17:02:00
Acecook Việt Nam Joint Stock Company has inked a one-year contract with the Việt Nam Football Federation (VFF) in HCM City to become the sponsor of national football teams.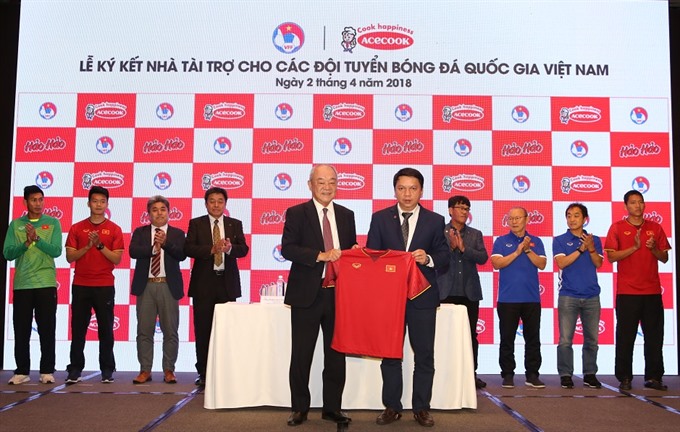 Attending the signing ceremony on April 2 was VFF general secretary Lê Hoài Anh, head coach of the national senior football team Park Hang-seo and general director of Acecook Kajiwara Junichi.
Under the deal, Acecook will sponsor the national senior men's football team, U23 team and national women's team.
Junichi said Acecook did not outline any goals for the Vietnamese teams but hoped they would achieve a lot.
Anh said Acecook's sponsorship would be a great support for the national teams to compete in international tournaments this year.
For the first time in the country's history, six Vietnamese football teams qualified for the finals of Asian championships, including the national team, national U23 team and women's team.
In 2018, VFF plans to spend some VNĐ70 billion (US$3.1 million) on the teams' training and competition to help them prove the country's talent in football in the international arena.
Source : VNS