Cong Phuong strikes once as Vietnam dismantle Philippines
2017-08-21 09:55:48
Favourite striker Nguyen Cong Phuong contributed a fantastic goal to U22 Vietnam's 4-0 emphatic win over the Philippines in their third Group B matchup at the 29th Southeast Asian (SEA) Games in Malaysia on August 20.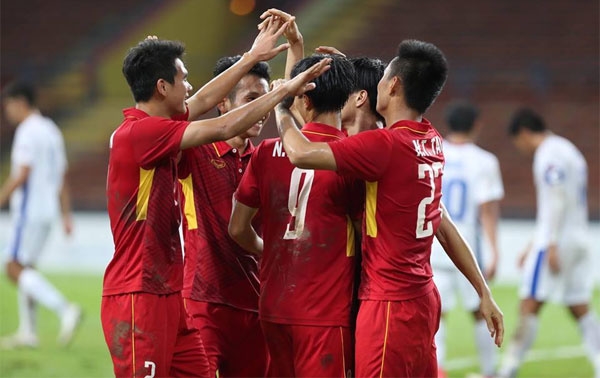 Vietnamese players celebrate Cong Phuong's opening goal.
The Hoang Anh Gia Lai forward opened the scoring for Vietnam seven minutes before halftime, with teammates Van Thanh, Van Toan and Tuan Tai also finding the net as coach Nguyen Huu Thang's players tore apart a disorganised Philippines side.
Despite the absence of Van Hau and Xuan Truong (under suspension), Vietnam still played a dominant game against underdogs Philippines thanks to a superior attack line.
Vietnam was the more aggressive side and came close to scoring after 20 minutes when Tuan Tai failed to produce a shot from a nice pass by Hong Duy.
The red-colour team were rewarded in the 38th minute as Cong Phuong dragged the ball past three Philippine defenders before beating goalkeeper Joseph Joyel for the opener with a powerful strike from a narrow angle.
Vietnam continued to play their patient possession game and went further ahead on stoppage time when Cong Phuong danced around some Philippine players before passing the ball to Van Thanh, who fired a cunning shot at the bottom corner to double his team's advantage.
The two-goal lead enabled Vietnam to start the second half comfortably and confidently. Five minutes after the break, Van Toan sped up to catch a nice pass from Tuan Anh and ripped a subtle finish that beat keeper Joyel to make it 3-0 for Vietnam.
In the remainder of the match, coach Huu Thang's side created an array of opportunities to extend the gap, but both Van Thanh and Cong Phuong failed to beat Joyel in the 64th minute for Vietnam's fourth goal.
It was not until the last official minute of play that Tuan Tai sealed a resounding 4-0 victory for U22 Vietnam after driving a decisive finish towards the far corner, leaving the Philippine goalie no chance to make any blocking efforts.
Vietnam have now won nine points following their three consecutive wins against Timor Leste (4-0), Cambodia (4-1) and the Philippines (4-0). Coach Huu Thang's side only needs a draw in their fourth Group B matchup with Indonesia on August 22, to ensure a berth in the semifinals.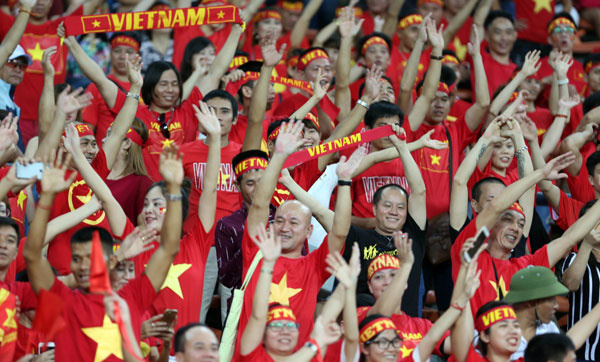 U22 Vietnam receive strong support from home fans.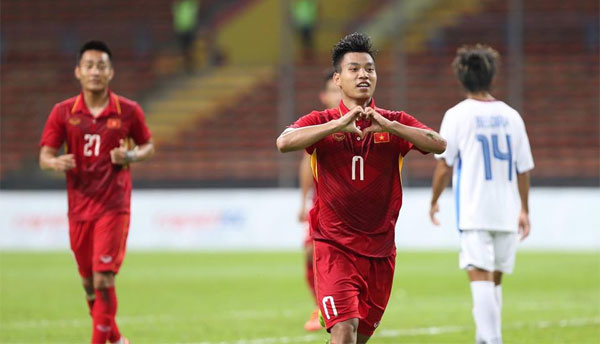 Van Thanh celebrates after scoring the second goal for Vietnam.
Source : nhandan.com.vn