Juventus academy to train young Vietnamese footballers
2018-10-05 10:24:05
The national football team is hoping for fresh talents to emerge from the new Juventus Academy Việt Nam which has been opened in the southern coastal province of Bà Rịa-Vũng Tàu.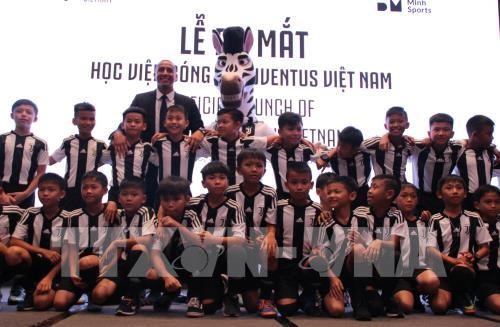 Sixty junior players under the age of 13 have been selected from across the country to train at the academy from five to seven years.
"Under the guidance of Juventus experts, the players could end up playing for Italian clubs, domestic teams and the national team," said former Việt Nam national team head coach Nguyễn Hữu Thắng.
According to Thắng, who is chairman of HCM City Club, Việt Nam needs more football institutes like the HAGL-Arsenal JMG Football Institute to develop the game.
Addressing the debut launch of the Juventus Academy Việt Nam in HCM City, former World Cup winner and legendary Juventus striker David Trezeguet said he hoped that the academy would provide professional training and life skills, while nurturing Vietnamese students' passion for football.
Located in the southern province of Bà Rịa-Vũng Tàu, the academy is equipped with modern facilities, promising to offer young players training methods of European standards with the involvement of professional trainers from the Turin-based team.
Source : VNS