SUZUKI CONTINUES THE SPONSORSHIP WITH VN NATIONAL FOOTBALL TEAMS
2018-05-18 15:48:34
On 1 April 2018, Vietnam Suzuki Corporation (VISUCO) has extended the sponsorship agreement with Vietnam Football Federation (VFF) as Official Top Star Partner; marking the third consecutive year of corporation between both parties.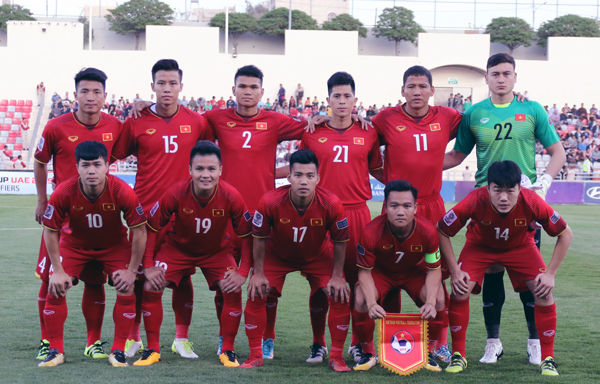 VISUCO, with its dream of bringing a better way of life to Vietnamese people, has been working ceaselessly to invent innovative technology, modern designs, and dedicated customer services, to deliver the highest quality motorcycle products. Besides, through sponsoring football, VISUCO is looking forward to building greater ties with the community, and to enriching the society with better experiences.
This year marks the 10th year Suzuki is honored to be the official Sponsor of The AFF Suzuki Cup – A football competition held every two years, organized by the ASEAN Football Federation (AFF), accredited by FIFA and contested by the national teams of Southeast Asia countries. Vietnam Suzuki Corporation's 2018 tagline: "VỮNG NIỀM TIN CHIẾN THẮNG" emboldens the ambitions of VISUCO for a bright future of the Vietnam National Football Teams. Not only as a Top Star Sponsor but as the faithful fan with a great love for Vietnam Football, VISUCO hopes for a day Vietnamese people come together through commonly shared joys, transcending language, racial backgrounds, and nationalities toward bigger dreams and the enhancement of technology.
The latest AFF Suzuki Cup 2018's drawing result is out on 2 May 2018 at Jakarta, Indonesia. Vietnam National Football Team is in Group A with Malaysia, Myanmar, Cambodia, and Laos. Let's wish the Vietnam National Football Team the best performances in the upcoming tournament to bring the glory back to Vietnam.
Vietnam National Teams' achievements:
Head Coach: Park Hang-seo
FIFA ranking: 103 (updated as of 12 April 2018)
Achievements:
- 2007: Top 16 strongest team at AFC Asian Cup 2017
- 2008: Champions at AFF Suzuki Cup 2008
- 2014: Won Bronze medal at AFF Suzuki Cup 2014
- 2015: Won Bronze medal at SEA Games 28
- 2017:
+ Vietnam National Male Team, Vietnam Under-23 National Team respectively qualified for AFC Asian Cup 2019 and AFC U-23 Championship 2018
+ Vietnam Women Team won Gold Medal at SEA Games 29
+ 2018: Vietnam U23 Team has marked a new milestone in Vietnam football history for becoming the runner up at AFC U-23 Championship 2018
Key information about the sponsorship agreement:
Designation: Vietnam Suzuki Corporation is the Top Star Sponsor of Vietnam National Football Teams.
Sponsored teams: Vietnam National Male Team, Vietnam Under-23 National Team, Vietnam Women Team.
Sponsorship period: 1 April 2018 – 31 March 2019.
Sponsorship territory: Matches organized in Vietnam by VFF and for which the latter has marketing rights.
Composite logo:

Any queries, please contact:
Vietnam Suzuki Corporation Automobile Marketing Group
Tel: +84 8 62929 119 - Ext 154
Email: sugiura@vietnamsuzuki.com.vn
Tel: 0914 212 213
Email: binhnd@vietnamsuzuki.com.vn
Source :