U22 Vietnam tie 0-0 with U22 Indonesia
2017-08-23 09:23:54
U22 Vietnam had a hard game against the solid ten-man U22 Indonesia, failing to score despite creating a range of opportunities and accepted a 0-0 draw in their fourth Group B matchup at the 29th Southeast Asian (SEA) Games in Malaysia on August 22.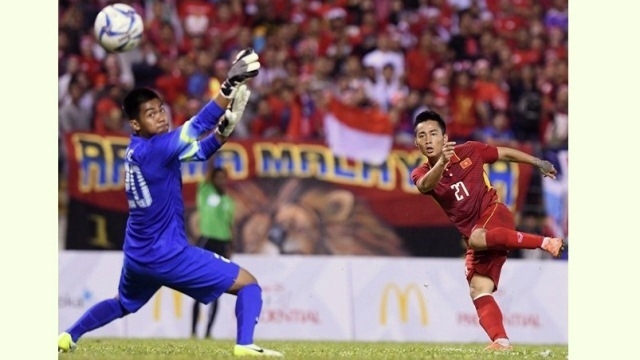 U22 Vietnam waste a range of opportunities to score, accepting to leave the field with a 0-0 draw with U22 Indonesia after their clash on Tuesday night. (Credit: zing.vn)
Entering the fourth match at the 29th SEA Games, U22 Vietnam temporarily take the lead of their group with nine points after three games. If winning three points against U22 Indonesia tonight, Coach Huu Thang's players will officially enter the semi-finals with a game in hand.
With Xuan Truong and Van Hau back after their absence from the previous match, U22 Vietnam had their strongest squad. Right after the start, Vietnam actively pushed attacking at a relatively fast speed but U22 Indonesia's solid defence caused a lot of difficulties for the red-shirts.
Like in the previous match, Vietnam continued to focus their attacks on the right wing to make use of speed and ingenuity of Van Thanh and Van Toan. The duo brought about many dangerous attacks for U22 Vietnam. In just the first 30 minutes, there were eight corner kicks for Huu Thang's players.
Van Toan had a good pass from the right wing in the 26th minute, but unfortunately Tuan Tai failed to net in the ball. Next, it was Van Thanh's turn to threaten Indonesia's goal from a very accurate pass of Hong Duy but the goalkeeper Satria Tama excelled to deny a goal for Vietnam.
Vietnam controlled the midfield team and had a variety of attacks, but U22 Indonesia played defensive counter attack to keep the scoring at 0-0 after the first half.
The second half remained unchanged as Indonesia continued to play solid football, while not being afraid to constitute fouls to limit U22 Vietnam's attacks.
In the 63rd minute, the game changed dramatically in favour of U22 Vietnam as Hanif of Indonesia was sent off because of a foul on Tuan Tai and received a second yellow card, meaning a red card.
Taking the advantage, U22 Vietnam strengthened attack but the red-shirts could not make a difference. Hong Duy and Tuan Tai twice net in the ball in the 71st and 72nd minutes but the goals were not recognised due to offside.
In the injury time, Tuan Tai wasted another golden opportunity to score as the striker finished straight to the Indonesian goalkeeper, letting the ball to hit the crossbar.
Failing to score, U22 Vietnam accepted to leave the field with only one point. The 0-0 draw forces Coach Huu Thang and his players to face many difficulties in the final match with Thailand. U22 Vietnam must win at least one point in the next match on Thursday to book a berth in the semi-finals.
Earlier in the afternoon, Vietnamese female footballers tied 1-1 with Thailand in their third match at SEA Games 2017. Coach Mai Duc Chung's players will next play hosts Malaysia in their final game on August 24.
At this year's SEA Games, five women's football teams, including hosts Malaysia, the Philippines, Thailand, Myanmar and Vietnam, will play a round-robin format to select the top three teams to win the event's medal set.
Source : nhandan.com.vn