VFF, Wolfsburg partner to develop national football
2019-06-21 10:21:57
Vietnamese football players will join training sessions and friendly matches in Germany with the support of Bundesliga side VfL Wolfsburg.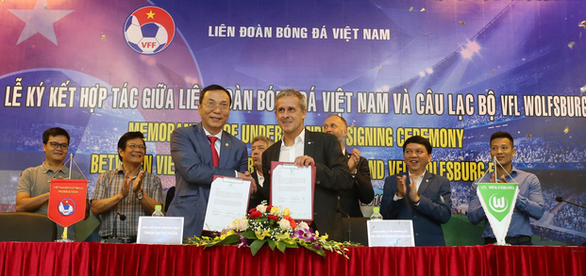 Representatives of the Việt Nam Football Federation (VFF) and Wolfsburg signed a memorandum of understanding (MoU) on Tuesday in Hà Nội.
The two sides agreed to tighten their co-operation to develop football. They will hold friendly matches and training courses in both countries, work to improve the quality of youth football, exchange coaches and experts to help them gain experience and work together on marketing and sponsorship activities.
Wolfsburg also promised to send their fitness and goalkeeper coaches to work with the Vietnamese junior teams.
The MoU will be valid untill 2021 and could be extended based on the demands of the two sides.
After the ceremony, Wolfsburg ambassador Pierre Michael Littbarski took charge of a German-style training session for the junior women's team.
Littbarski was a famous player for West Germany in the 1980s. He was a member of the national team which twice won silver at the World Cup in 1982 and 1986 before winning the World Cup trophy in 1990.
Source : VNS