Việt Nam beat Philippines at AFF U22 champs
2019-02-18 10:50:22
Việt Nam came from behind to beat the Philippines 2-1 in the first match of Group A of the 2019 ASEAN Football Federation (AFF) U22 Youth Championship in Cambodia on Sunday.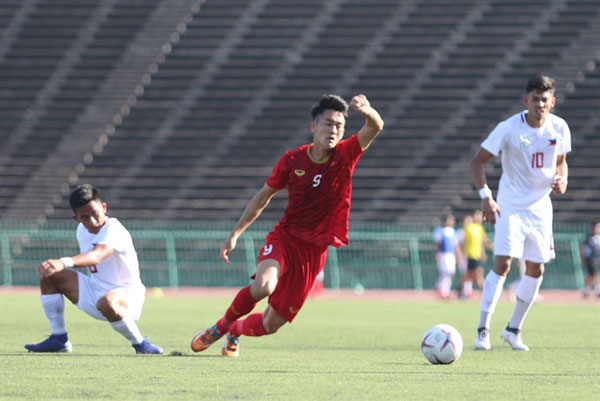 Việt Nam dominated the game from the opening whistle but struggled to break down the Philippines' defence.
The Vietnamese side created several chances to score the opener but Lê Xuân Tú, Trần Bảo Toàn, Lê Văn Xuân and Nguyễn Hữu Thắng all missed.
After the break, Việt Nam had to pay the price for the host of missed chances as Christian Lapas opened the scoring for the Philippines in the 51st minute.
The Golden Dragons fought back from there, and equalised in the 74th minute through Trần Danh Trung.
Only four minutes later, striker Lê Minh Bình popped up with the winner, justifying coach Nguyễn Quốc Tuấn's decision to bring him on as a substitute.
Young ace Bình plays his club football for Hoàng Anh Gia Lai and is expected to replace star national team striker Nguyễn Công Phượng, who has been loaned out to K League club Incheon United.
Việt Nam will next face Timor Leste tomorrow and Thailand two days later. It is the first time a championship has been organised for U22s in the region.
Source : VNS