Việt Nam win semi-final place at regional U22 champs
2019-02-20 09:11:28
Việt Nam earned a place in the semi-finals of the ASEAN Football Federation U22 Championship after beating East Timor 4-0 yesterday in Phnom Penh, Cambodia.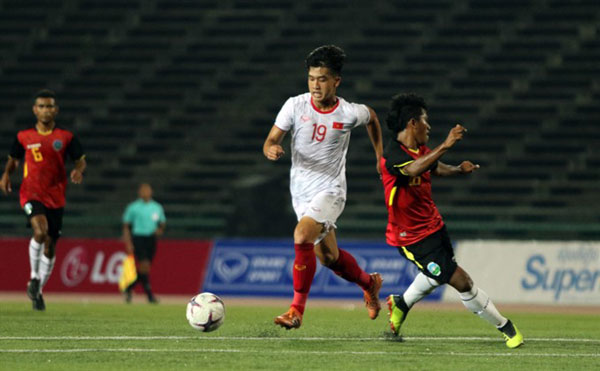 Trần Danh Trung scored a brace while Phan Thanh Hậu and Lê Xuân Tú also netted in the second half sending Việt Nam to the top of Group A with six points after two wins.
Coach Nguyễn Quốc Tuấn made six changes to his team after their 2-1 win over the Philippines two days ago.
Striker Trung secured a berth in the first team after scoring the opening goal in the last match, and was carefully marked by East Timor's defenders in the first half.
Việt Nam usually win easily against East Timor but the minnows made it difficult for them in the first half yesterday and they rarely threatened goalkeeper Aderito Raul Fernandes while putting pressure on goalie Phan Văn Biểu.
The turning point came when Fernandes tried clear the ball but it hit Filomeno Junior Da Costa's leg and bounced for Trung to score easily.
The goal, which left Trung in tears after many attempts, also took the pressure off his teammates.
The situation changed dramatically after the interval.
Trung doubled the lead following a break in the 62nd minute. The striker left three East Timor defenders behind before beating Fernandes for the second time. This time he had a big smile on his face.
"I am really happy to score two goals. They've helped us advance to the semis. We will work harder in the next match for best result," said Trung, who was named man of the match.
Phan Thanh Hậu, who was named one of world's top 40 potential players in 2014, made it 3-0 with a solo effort.
Substitute Tú scored his first goal at the event in added time after wasting several chances.
"We played very well and we're in the semi-finals. My players focused and managed the game. It was an outstanding performance," said coach Tuấn.
Việt Nam will play Thailand, who won 3-0 against the Philippines in the earlier match at the National Stadium, in the last group stage game on February 21.
The two sides have both qualified from Group A for the semi-finals.
"We made six changes today as part of our tactics to prepare for the Thailand match. We are ready for that," Tuấn added.
In today's fixtures, Myanmar will meet the hosts while Malaysia will play Indonesia in Group B.
Source : VNS