Viettel win friendly tournament
2018-03-28 15:12:29
Viettel beat Hà Nội 2-0 to clinch the trophy in an international friendly U15 football tournament between Việt Nam and Japan in Hà Nội on Sunday.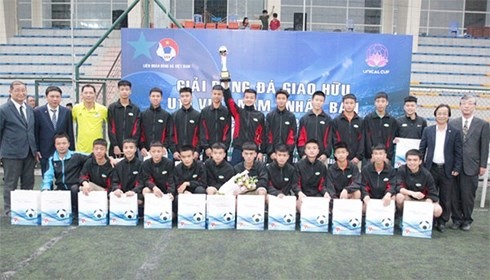 Viettel players and coaches pose with their winning trophy.
With two wins and one loss, Viettel, Thanh Hóa and Japan had six points each.
Owing to better goal difference, Viettel became champions. Japan came second, followed by Thanh Hoá.
In another youth football match, the Promotion Fund of Vietnamese Football Talents Football Club (PVF) finished sixth in the U15 Asean Dream Football Tournament 2018 (U15 ADFT ) in Thailand on Sunday.
On the last day, the Vietnamese representative lost 4-5 in penalty shootout to Changrai United of the hosts after the match ended 1-1 in official time.
Earlier, in the group round, PVF won all the three matches to enter the quarter-finals, where they lost 0-1 to Assumption United. In the play-off match, to determine the fifth to eighth position, they beat Pattaya United 2-0.
The U15 ADFT is an annual tournament for ASEAN teams and Japan held in Thailand. This year, Việt Nam sent only PVF as the representative. As the host, Thailand had 12 teams. There were six teams from Japan and one from Malaysia.
Source : VNS