Opening ceremony of AFC 'A' coaching diploma course – Part 1
On the morning of Dec 17, the opening ceremony of AFC 'A' coaching diploma course – Part 1 was held at VFF's office.
The delegation included: Mr. Tran Quoc Tuan – VFF Vice Permanent President; Mr. Le Hoai Anh – VFF General Secretary; Mrs. Nguyen Thanh Ha – Deputy GS; Mr. Yusuke Adachi – Technical Director; Mr. Cao Ngoc Cam – Offical Manager; Mr. Luu Quang Dien Bien – Director of Grassroots, Coaching Education and Affiliated MAs; Mrs. Vu Thi Thu Huong – Deputy Director of Vietnam Youth Football Training Centre and 24 trainees from units in the whole country.
Speak at the ceremony, on behalf of the VFF Executive Committee, Mr. Tran Quoc Tuan thanked instructor Yusuke Adachi and welcome all coaches who join in the course. "Since 2015, VFF focused on education for coaches and get some achievements. Nowadays, Vietnam ranks 93rd in the FIFA Ranking, the teams usually join into the final round of Asia's tournament. We had some outstanding achievements in Asia, most recent, we won the first couple of gold medals at SEA Games. This is the result of a long time working hard for the development of Vietnamese football. Our mission now is to continue to develop Vietnamese Football. Hence, these courses will be held regularly. One of Vietnamese football's tasks is to improve the standard of coaches. VFF hopes that the trainee will seriously study, towards developing a career in training talented players for Vietnamese Football".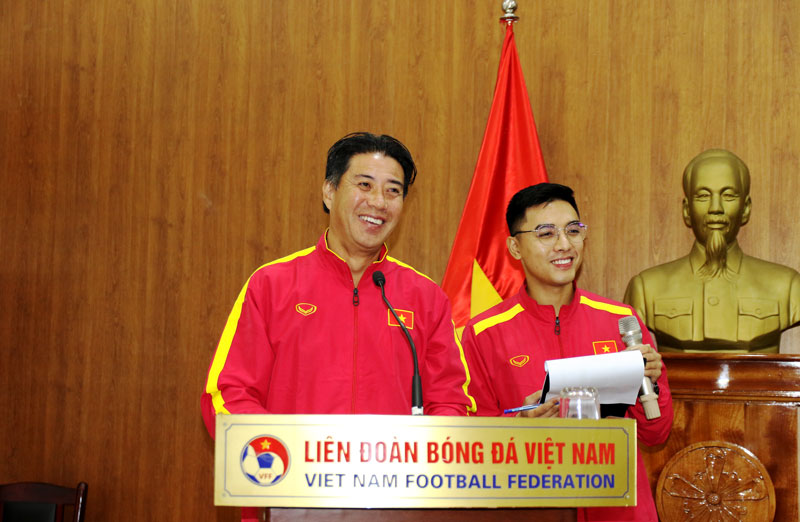 As the instructor of the course, Mr. Yusuke Adachi thanked VFF to create the best conditions for the course. "Under the effect of Covid-19 pandemic, I very happy that we can stay together and organize this course. This is our opportunity. The AFC 'A' coaching diploma course is important, the trainee of this course will be a person who directly works with players to develop Vietnamese football. I will try to create the best condition for the trainee".
On behalf of trainees, Mr. Nguyen Anh Duc thanked VFF and the functional departments. "All trainees are ready to start the course. We hope that we can gain more knowledge and experience through this course, therefore be a part of the development of Vietnamese Football".
Part 1 of AFC 'A' coaching diploma course starts from Dec 17 to Dec 30 at VFF and online supervise by AFC.