Việt Nam secure AFC U19 final berth
Việt Nam have confirmed its place in the Asian Football Confederation U19 Championship 2018 finals with a match to spare after beating hosts Chinese…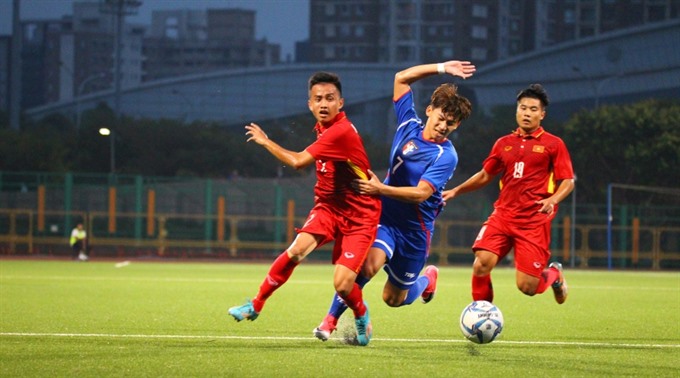 Chinese Taipei's Lan Hao-yu is surrounded by Vietnamese players during the AFC U19 Football Championship qualifier yesterday in Hsinchu. Việt Nam won 2-1.
The second win in Group H during the qualification has assured Việt Nam a top spot in the group irrespective of its result in the final match against Laos tomorrow.
On Saturday, Việt Nam beat Macao 2-0 at the Hsinchu County Second Stadium.
Yesterday, despite facing the hosts, Vietnamese players were confident and had the first attacking chance of the match.
Lê Văn Xuân took a free kick near the 16.5m area. His kick hit a Chinese Taipei defender and the ball bounced back to Xuân whose second finish touched his teammate and went wide in the 13th minute.
Around 10 minutes later it was 1-0 for Việt Nam.
Nguyễn Lý Nam Cung failed to score from a close-range shot but his teammate Trương Tiến Anh caught the ball and his tap sent the ball in.
Anh continued to assist Nguyễn Hồng Sơn to net the second goal in the 32nd minute. Sơn's finish hit goalkeeper Li Guan-pei and rolled into the net.
In the second half, the Vietnamese could not maintain their strong domination. Chinese Taipei players gradually took the pace off the game and they succeeded in the 57th minute when Chin Wen Yen narrowed the result with a straight shot.
Speaking to reporters at the post-match conference, Coach Hoàng Anh Tuấn said that although Việt Nam had reached their set target prior to the match, he was not satisfied.
"We wanted to win three points from this match, so that we could qualify early for the finals. We did a good job in the first half, but in the second the host players fought back. They created a heavy pressure on us and scored a goal to narrow the result. My players lost their focus in some moments of the game. I am just pleased with the points (not the performance)," he said.
Thanking the Vietnamese supporters in Chinese Taipei, on behalf of the team, Tuấn said, "They made the team feel like they were playing at home. It was great support to the team in their two matches here."
Earlier yesterday, Macao kept their qualification hopes alive after beating Laos 1-0.
A Sousa Lury Rogerio's goal was enough to give Long Cho Leng's men the three points as they sit third.
Rogerio found the breakthrough in the second half when his shot flew past Laos' goalkeeper Khamfong Vansavath in the 56th minute.
Currently, Việt Nam and China are the only teams confirmed to join hosts Indonesia in the finals next year.