Thái Sơn Nam take national futsal title
Thái Sơn Nam tied 1-1 with Sanatech Khánh Hòa in the 17th round on Thursday to take the National Futsal Championship title with one round still to…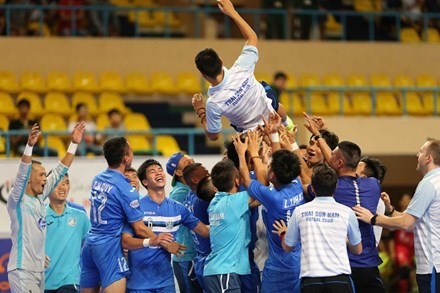 Thái Sơn Nam celebrate winning against Sanatech Khánh Hòa in the 17th round to take the National Futsal Championship title. — Photo tienphong.vn
The two teams played an attacking game from the time the referee blew the whistle at the start. After missing many chances, Huỳnh Đức opened the score for Khánh Hoà in the fifth minute. However, only two minutes later, from a corner kick, Đắc Huy levelled the score of 1-1 for Thái Sơn Nam.
After the break, the two teams continued to create numerous situations to increase the scoreline but they failed to convert into goals.
With this win, Thái Sơn Nam have 42 points, better than the second-placed team Khánh Hòa with six points.
The tournament has only one round to go, but Thái Sơn Nam have already won the event and defended their title which they had won last year.
In the other match, Hải Phương Nam Phú Nhuận came from behind to beat Sanna Khánh Hòa 3-2.
Khánh Hòa took a 2-0 lead and were entertaining high hopes of entering the top three but Phú Nhuận levelled 2-2 through quick attacks. At the closing stages of the match Phú Nhuận scored the third goal.
Khánh Hoà paid a heavy price for their power-play tactic in this match as it had no effect on the result.
"Today, my players played courageously. I am very satisfied with our footballers," said coach Nguyễn Tuấn Anh of Phú Nhuận.
Elsewhere, Sanest Tourist Khánh Hòa beat Thái Sơn Bắc 5-3, Tân Hiệp Hưng lost to Hoàng Thư Đà Nẵng 1-3, and Sài Gòn crushed Cao Bằng 3-1.
Today, the teams will have a day off before playing the last round on Saturday.