AFC WOMEN'S ASIAN CUP 2018: FOCUS ON VIETNAM
Of the eight teams to learn their AFC Women's Asian Cup opponents on December 9, only Vietnam can boast an unbeaten record in 2017.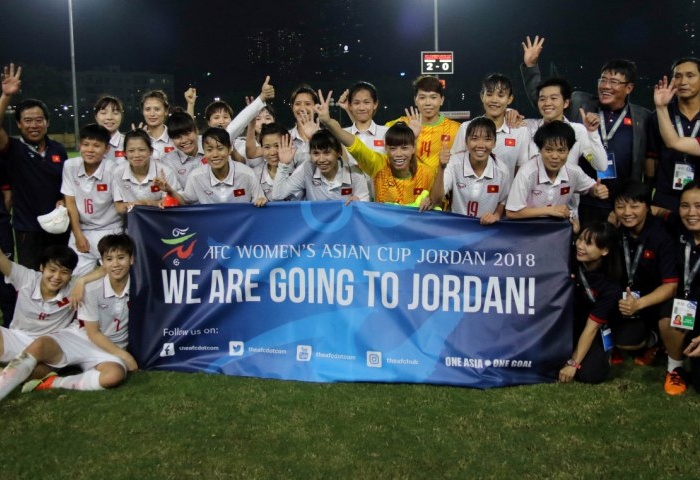 Head coach: Mai Duc Chung (VIE)
Current FIFA ranking: 31
AFC Women's Asian Cup appearances: 1999, 2001, 2003, 2006, 2008, 2010, 2014
Best finish: Group stage (1999, 2001, 2003, 2006, 2008, 2010, 2014)
A perfect four wins from four matches on home soil in April secured qualification for Jordan 2018, before a near-flawless week of football in Kuala Lumpur helped Mai Duc Chung's side to a fifth Kuala Lumpur SEA Games gold medal in August.
Vietnam were imperious in qualifying, racking up 25 goals in successive wins over Syria, Singapore and Islamic Republic of Iran before producing an excellent team performance to beat a strong Myanmar side 2-0 in the crucial final match in Hanoi.
Those matches showed a team underpinned by organisation, technical proficiency and fitness – as they produced four excellent performances in seven days – qualities which were confirmed with a similarly impressive run of results in Malaysia in August.
Vietnam came agonisingly close to qualifying for a first ever FIFA Women's World Cup when they hosted the AFC Women's Asian Cup in 2014, but suffered a 2-1 defeat to Southeast Asian neighbours Thailand.
In 2018, they will be hoping to go a step further, and with a legion of talented players coming into the peak years of their careers, they have every chance to make history in Jordan.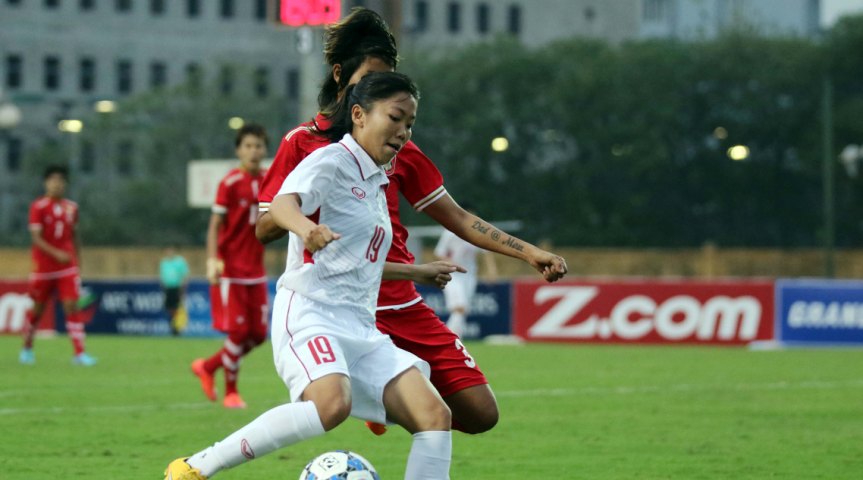 Key player: Huynh Nhu
The diminutive striker was the star of the show in the AFC Women's Asian Cup qualifiers in April.
After being rested for Vietnam's first-up 11-0 win over Syria, Huynh Nhu scored six goals in three matches, including the goal which gave Vietnam a 2-0 lead over Myanmar, and all but confirmed their qualification in the crucial final match.
She continued her fine form at the SEA Games later in the year, scoring against the Philippines, Myanmar and Malaysia to help her country to a gold medal.
The Tra Vinh native was the female winner of the Golden Ball, Vietnam's highest individual accolade, in 2016, and having just turned 26, is entering her footballing prime at the best possible time.
Qualifying method
| | | | | | | | | |
| --- | --- | --- | --- | --- | --- | --- | --- | --- |
| Group D | P | W | D | L | GF | GA | GD | PTS |
| VIETNAM | 4 | 4 | 0 | 0 | 27 | 1 | 26 | 12 |
| MYANMAR | 4 | 3 | 0 | 1 | 22 | 2 | 20 | 9 |
| ISLAMIC REPUBLIC OF IRAN | 4 | 2 | 0 | 2 | 19 | 8 | 11 | 6 |
| SINGAPORE | 4 | 1 | 0 | 3 | 1 | 20 | -19 | 3 |
| SYRIA | 4 | 0 | 0 | 4 | 0 | 38 | -38 | 0 |

Vietnam – A' internationals in 2017
| | | | | |
| --- | --- | --- | --- | --- |
| Opponent | Result | Competition | Venue | Date |
| Syria | 11-0 | WAC Qualifiers | Hanoi, Vietnam | 05/04/2017 |
| Singapore | 8-0 | WAC Qualifiers | Hanoi, Vietnam | 07/04/2017 |
| IR Iran | 6-1 | WAC Qualifiers | Hanoi, Vietnam | 09/04/2017 |
| Myanmar | 2-0 | WAC Qualifiers | Hanoi, Vietnam | 11/04/2017 |
| Philippines | 3-0 | SEA Games | Kuala Lumpur, Malaysia | 17/08/2017 |
| Myanmar | 3-1 | SEA Games | Kuala Lumpur, Malaysia | 20/08/2017 |
| Thailand | 1-1 | SEA Games | Shah Alam, Malaysia | 22/08/2017 |
| Malaysia | 6-0 | SEA Games | Shah Alam, Malaysia | 24/08/2017 |