Technical Director Yusuke Adachi: "Vietnam youth players have big potential…"
On 3rd Sep, Mr. Yusuke Adachi officially started working at Vietnam Football Federation (VFF) as a technical director. After the first day, he spent the time to talk about his plans to build up the development of Vietnamese Football, especially training youth football.

07/09/2020 09:14:41
– Good afternoon Mr. Yusuke Adachi, after 2 weeks of quarantine and start working at VFF, what is your impression here?
Technical Director Yusuke Adachi: It's actually 25 days of quarantine, today is the first day I come to this office. I'm very exciting and I feel a big responsibility.
– This is the first time you work as a technical director at a football federation, so does this job differ with your previous job at Yokohama FC or HongKong Football Academy?
– In the past, I was the head coach of Yokahama FC. The main mission of a head coach is building the team and in HongKong I in charge of building the training programs and coaching education project. Now, I want to do a similar thing in VN but the size of the responsibility is huge. That why I feel a big responsibility here and very exciting. I will use my experience to improve Vietnamese Football.
– Before setting the job in VFF, what do you know about Vietnamese Football?
I think I need to continue to study Vietnamese Football but my impression of Vietnamese Football is the passion of people here. I watched a Vietnam National Team's game 2 years ago. After the match, the fan comes to street and shouting. It's never happened in Japan, so I can see that football in Vietnam is the No.1 sport and people are very passing in football.
– One of the most important missions for you in Vietnam is to plan the youth football program not only for the youth national teams but also for the football centres, so do you have any plan for this mission, and what is your vision?
As a technical director, I need to tough many things. We need to have a good player, and in order to have a good player, we need to have a good coach, a good environment. It means that before we tough the top level, maybe we can start with the coach education, youth education, grassroots, etc. It's also an important thing in the next few years. It is a long term vision, not the short term.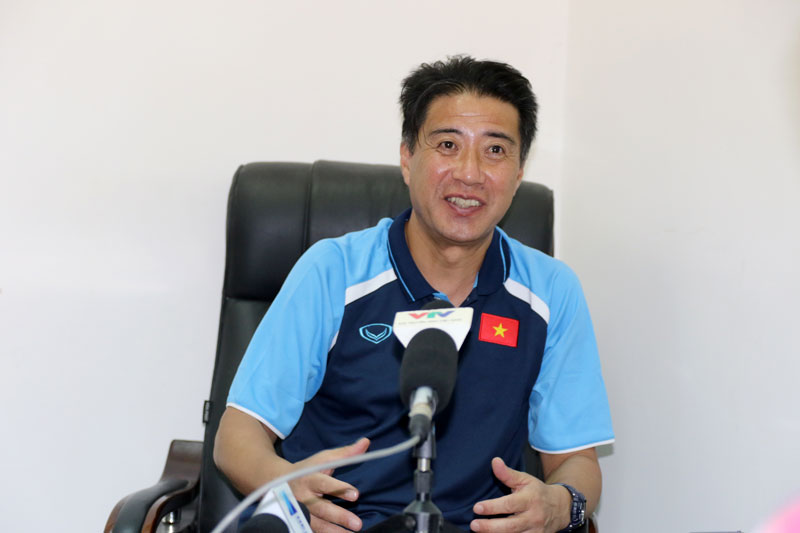 – With the experience as an instructor of AFC, you used to train many coaches in Asia in which there were many coaches of the V.League who joined in your courses. So is it an advantage for you to work in Vietnam?
Yes, lucky that I have experience in Vietnam and I have many friends in Vietnam. That is my advantage, and I'm very happy to be here. But the biggest advantage for me is the potential of youth players. The players who join my course were so good. During only 1 month of a course, the players improved a lot. The players have big potential and also the coaches. Vietnamese football has big potential. This is my advantage and I think I can succeed here.
– Can you explain some plans with Vietnamese Football while the V.League and National Cup will return soon?
What I need to do in the next few months is study Vietnamese Football and I need to analyze Vietnamese Football to know more detail about the coaches' ability, the player's ability. Then I will think about the next plan for me as well as Vietnamese Football.
– Thanks for your interview and wish you will success with Vietnamese Football.