Thái Sơn Nam enter AFC Futsal Club champs' quarter-finals
Việt Nam's Thái Sơn Nam earned a ticket to the knockout stage of the AFC Futsal Club Championship Indonesia 2018 on August 5.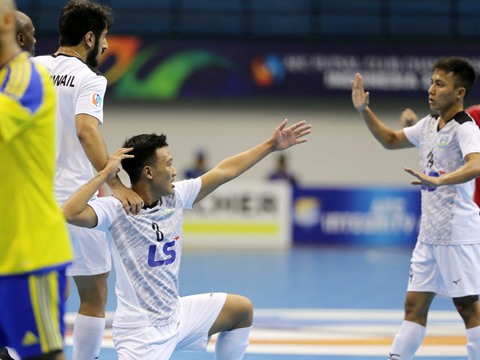 The team defeated Al Dhafra of United Arab Emirates 4-3 to rank second in Group B.
Iraq's Al Nafit topped the group with seven points after defeating Jeonju MAG of South Korea 6-1 in another tie, while Al Dhafra finished third with four points, lagging behind Thái Sơn Nam by two points.
The Vietnamese side will face the winners of Group A, Nagoya Oceans of Japan on August 8.
The Vietnamese side needed a win in this match to qualify for the quarter-finals so they played carefully.
Nguyễn Minh Trí scored the opener for Thái Sơn Nam in the 10th minute. Châu Đoàn Phát doubled the score before the first half ended.
After the break, Al Dhafra bounced back strongly. They scored two quick goals through Abdul Karim Jamil in the 31st minute when he deflected Sabry Jamil Hezam's volley from the right and Mohammad Obaid scored the equaliser in the 33rd minute.
Just two minutes later, Đắc Huy volleyed from close range to make it 3-2 for the Vietnamese side. However, taking full advantage of Thái Sơn Nam's error in defence, Williams Oliveira Do Nascimento equalised in the 37th minute.
In the final minutes, Thái Sơn Nam used power-play tactics to enhance their attack. When just 10 seconds left, Al Tawail fixed the game at 4-3 for Thái Sơn Nam.
"It was like a final for them (Al Dhafra) and for Thái Sơn Nam. I felt we played well in the first half but in the second we couldn't as Al Dhafra played a high pressing game and we couldn't keep the ball, even three four or passes were impossible," said Thái Sơn Nam's head coach Miguel Rodrigo on the-afc.com.
"They commanded the second half and decided to settle for a draw but the last ten seconds was heartbreaking as we came out on top with the winner and now we are in the quarter-finals. All the fans on TV and spectators here must've enjoyed watching the game because it was a very good futsal match," Rodrigo added.
While Al Dhafra's head coach Luis Fonseca Cilleros said he was very disappointed in the way they lost the match.
"It's the worst possible way to lose. Overall, we were the better team and I'm proud of my players. We fought very hard to win the match but this is futsal. Sometimes it's hard and congrats to the other team," said Cilleros.