Thái Sơn Nam enter semi-final of AFC Futsal Club Championship
Thái Sơn Nam came from behind to earn a ticket to compete in the AFC Futsal Club Championship Indonesia 2018 on Wednesday.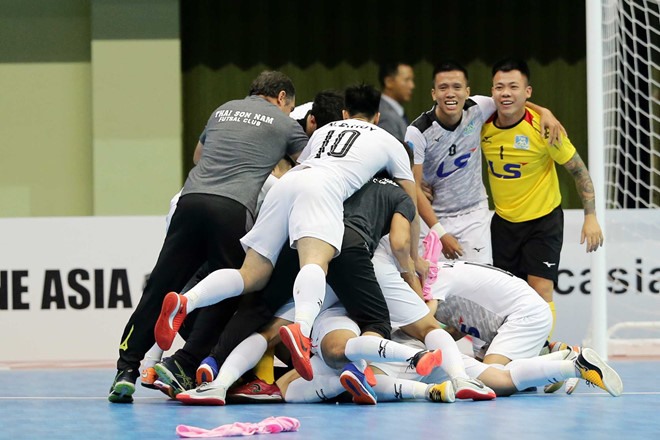 Thái Sơn Nam beat three-time Asia champion Nagoya Oceans of Japan 3-2 in extra time to secure a spot in the semi-finals.
As a leading club of Japan that has taken the national title nine times, Nagoya Oceans controlled the game in the first minutes. Although Thái Sơn Nam played with focus, they couldn't resist Japanese attacks and received an early loss in the seventh minute.
After that, the Vietnamese side bounced back strongly. Receiving a pass of Trần Văn Vũ, Nguyễn Minh Trí hit home and drew level.
However, before the first half closed, Ryosuke Nishitani helped the Japanese side take the lead of 2-1.
In the second half, Trí claimed an equaliser for Thái Sơn Nam, who have finished third in the tournament twice – in 2015 and 2017.
Following Trí's goal, Thái Sơn Nam put up a firm fight which gave Nagoya Oceans difficulties in attacking.
In the extra time, it was goal keeper Văn Ý who broke the deadlock in the 49th minute when Nagoya Oceans' power play backfired and he shot the ball into an unguarded goalmouth to seal a semi-final tie against Lebanon's Bank of Beirut on Friday.
"The first half was 100 per cent to Nagoya Oceans' favour; I couldn't recognise my team on the pitch. Maybe it's because we played really tensely and it made me realise that my team really have to play calmly and show their full potential. By half-time it was 2-1, but they deserved to have scored more goals," said Thái Sơn Nam head coach Miguel Rodrigo on the the-afc.com.
"In the second half, everything changed. We spoke in the locker room about tactics but also about mental control. We then played fantastic futsal, and in the extra time, we played fantastic. Overall, we deserved to win," Rodrigo added.
"What can I say, but that we are very sad. We don't deserve this result. We worked from the first until the last minute. We tried to do a power play because we didn't want to go to penalty kicks, and they defended well and scored a goal. It's my mistake, not my players'. I am very proud of them because they worked a lot in every game and did their best. I'm very sad at the result but proud of my team," said Nagoya Oceans head coach Pedro Costa.