Thái Sơn Nam win thriller to make final
Việt Nam's Thái Sơn Nam came from behind to defeat Lebanon's Bank of Beirut 6-5 in a thrilling semi-final at the AFC Futsal Club Championship…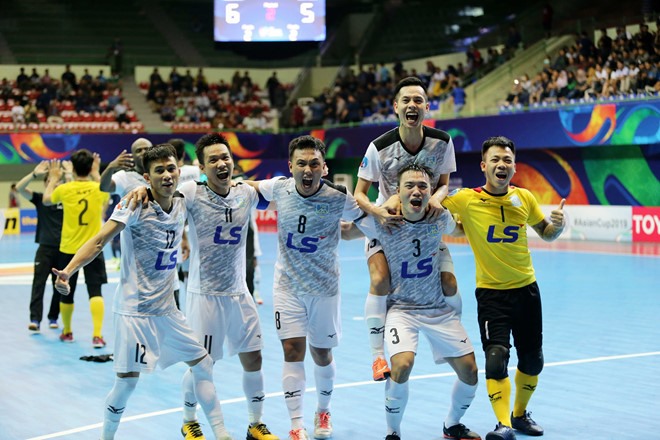 With this win, the Vietnamese club has earned a ticket to the final of the tournament for the first time.
Thái Sơn Nam have had surprising success in this tournament after beating three-time Asia champions Nagoya Oceans of Japan 3-2 in the quarter-finals, which inspired coach Miguel Rodrigo's team in the semi-final encounter against Bank of Beirut.
Thái Sơn Nam started with purpose as they tried to get a head start in the game but the Vietnamese club found Beirut's defence hard to break.
Instead, they conceded two goals, which were scored by Abdultahman Altawail and Karim Abou Zeid within the first 15 minutes. However, Thái Sơn Nam still dominated the game and after many missed opportunities, they finally found a breakthrough in the 19th minute when Vũ Quốc Hưng caught Beirut napping as his strike flew past goalkeeper Hussein Hamadani.
Bank of Beirut suddenly widened the score to 3-1 with another goal in the beginning of the second half. Under great pressure, Việt Nam's club had to play a high-pressing game in searching of more goals. Hưng pulled one back in the 31st minute when he blasted his effort from the top of the arc to reduce Thái Sơn Nam's deficit.
The Vietnamese club then scored two goals in quick succession in the 33rd minute through Vũ Đức Tùng from close range following Nguyễn Thành Tín's pass and Tín got his name on the scoresheet seconds later after capitalising on a defensive error to fire Thái Sơn Nam into the lead for the first time in the match.
Bank of Beirut activated the power play but continued to suffer from another two goals by Tín and Phạm Đức Hòa in the 36th and 39th minutes respectively. The Lebanese club managed to score another two goals before the match concluded 5-6 with the victory going to the Vietnamese team.
Thái Sơn Nam's win sets up an exciting final against the Islamic Republic of Iran club while Beirut will play Nafit Al Wasat in the third-place playoff on August 12.