Hà Nội make history at AFC Cup
Hà Nội FC made history as the first ever ASEAN club to take part in the AFC Cup Inter-Zonal Finals on Tuesday in Ashgabat City, Turkmenistan.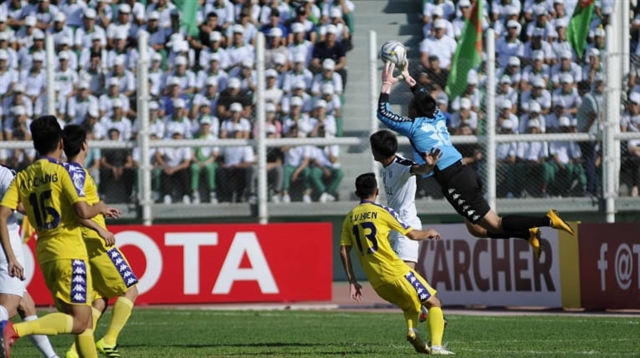 Captain Nguyễn Văn Quyết scored twice to help Hà Nội draw with hosts Altyn Asyr 2-2 in the return match of the inter-zonal semi-final and won 5-4 on aggregate to seal their final berth.
Altyn Asyr's skipper Serdar Geldiyev meanwhile grabbed both goals from penalties, one in each half.
Hà Nội won 3-2 in the first leg match on home turf last week.
Altyn Asyr were expected to progress to a second successive Inter-Zonal Final when they opened the attacks just minutes from the first whistle.
Resul Hojayev pushed the ball near the Vietnamese side's box and tested goalkeeper Nguyễn Văn Công with a straight finish which went a little wide.
Hà Nội, who promised to play beautiful football, answered with strong counter-attacks.
National midfielder left keeper Mammet Orazmuhamedow behind but his shot was blocked by a defender.
Despite the hosts' effort, it was 1-0 for the visitors in the 15th minute.
Skipper Quyết ran into the box to control the ball from the right wing and his close-range finish found the net.
The goal was a strong push for Hà Nội who created many difficulties for Altyn Asyr's defenders and forced Orazmuhamedow to work hard.
Quyết nearly made his double in the 37th minute with a free kick to Orazmuhamedow's near corner but the keeper dived to protect his net.
Pape Omar was too fast to pass Altyn Asyr players and was in a face-to-face situation with Orazmuhamedow but the Senegalese striker was unable to beat him.
Altyn Asyr also threatened goalie Công several times but Murat Yakshiye and Begench Akmamedov did not finish well.
It was in extra time of the first half that defender Nguyễn Văn Dũng pulled Resul Hojayev down in the box and the hosts were given a penalty.
Geldiyev easily beat Công to make it 1-1.
Yazguly Hojageldiyevr of Altyn Asyr said at a press conference that his players were asked to keep eyes on Hà Nội's talented midfielder Nguyễn Quang Hải who scored two goals in the first leg match. But Hải was not the only star of the team. When Hải was quiet, Quyết made the highlight.
Altyn Asyr looked to have better momentum after the break but their determination was broken with the second goal for Hà Nội.
Defender Ngân Văn Đại took a ball from Altyn Asyr and headed it to Quyết who restored Hà Nội's two-goal lead on aggregate in the 51st minute. Quyết, who also scored a goal in the first leg match, steered a header above Orazmuhammedov into the vacant net. It was his fifth goals in five AFC Cup matches.
Things seemed to be going right for the visiting side as time ran to the end and they still kept the pace of the match.
However, Mehail Titov was pulled down in the 81st minute and Geldiyev beat keeper Công for a second time.
Công then made a superb save just a minute later to prevent Titov's attempt with a powerful kick.
In the two-leg inter-zone final, Hà Nội will play the winners of the match between Abahani Limited Dhaka of Bangladesh and April 25 Sports Club of North Korea on September 25 and October 2.