Việt Nam start U23 championship as group favourites
Việt Nam have been named favourites in Group D at the Asian Football Confederation U23 Championship after the draw on Thursdday in Bangkok.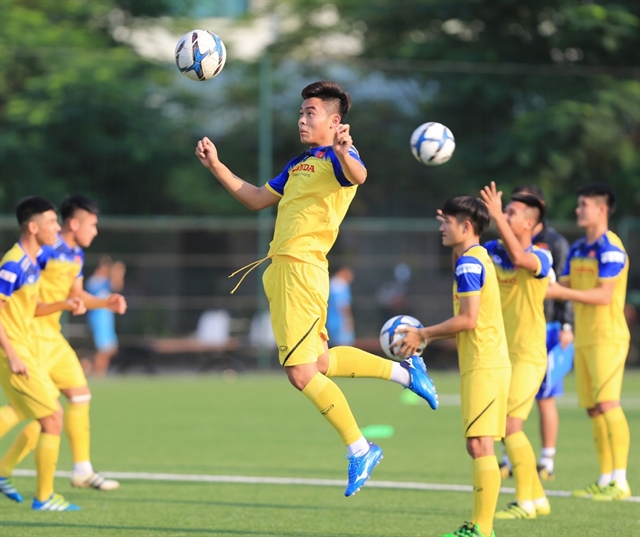 Last year's runners-up are grouped with North Korea, Jordan and the UAE.
Hosts Thailand are in Group A and will play former champions Iraq, Australia and Bahrain.
Uzbekistan will open their title defence in Group C with South Korea, China and Iran.
Qatar have been grouped with 2016 champions Japan, Saudi Arabia and Syria in Group B.
The top two teams from each group will advance to the quarter-finals.
The tournament will kick off on January 8 with the final to be played on January 26.
The top three teams will join Japan as Asian representatives at the 2020 Olympics.
All four teams in Group D advanced to the finals last year after winning their qualification rounds.
Jordan's best result was a third place in 2013 while North Korea advanced to the quarter-finals in 2016.
The UAE have reached the last eight in 2013 and 2016.
Việt Nam were disqualified in 2016 but two years later brought home silver medal.
Việt Nam Football Federation Vice President Trần Quốc Tuấn warned of the rivals' strengths.
"This group has the best teams from East and West Asia. In fact, they are all really strong. The chances are equal for all teams," said Tuấn.
"I think Việt Nam will do well if we prepare well. The matches in our group will be competitive," said Tuấn, who is chairman of the AFC Competitions Committee.
Speaking to reporters after the draw, head coach Park Hang-seo said the finals would be very different from qualification, where Việt Nam won all their matches.
"Teams in qualification are not as strong as those in the finals. All teams here are powerful and at the same level," Park said.
Park said his U22 players who would compete at this November's Southeast Asian Games in the Philippines would be the core of the U23s in Bangkok next year.
They will undergo intensive training locally and in South Korea.
Việt Nam will first play the UAE on January 10, Jordan three days later, both at the Chang Arena in Buriram, and North Korea on January 16 at the Rajamangala in Bangkok.
In their incredible tournament last January, Việt Nam finished second in their group. They beat Iraq in the last-eight before beating Qatar in the semi-finals. The team only lost to Uzbekistan in the last seconds of extra time in the final.