Việt Nam win 5-2 in U15 event
Việt Nam beat Chinese Taipei 5-2 in their first match at an international U15 football tournament yesterday in Đà Nẵng.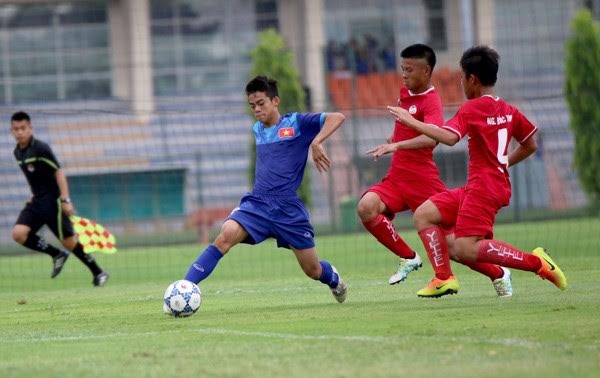 Việt Nam (in blue) won 5-2 over Chinese Taipei in U15 international competition in Đà Nẵng.
The hosts needed 33 minutes to open the scoring through Nguyễn Quốc Hoàng from close-range.
Chinese Taipei's Chiang Chun-Yao equalised near the end of the first half, before scoring an own-goal in the 63rd minute.
Hoàng then took the score to 4-1 notched a hat-trick with two more goals in the 72nd and 74th minute.
Taipei's Chun-Kai Lin narrowed the result 4-2 in the 85th minute, but Đậu Ngọc Thanh put paid to any hopes of a comeback in added time, scoring to leave the match 5-2.
In the next fixture Việt Nam will play Indonesia who beat Myanmar 3-1 in a later game yesterday at Hòa Xuân Stadium.