Temporary hold a fan who burning flares
(14th Nov) This fan was detained by the security agency because of storing and lighting flares in the My Dinh stadium before the match between Vietnam…
According to the information from the police, this fan is N.T.D (was born in 1989) who lives in Me Linh (Hanoi). He has a card member of Vietnam Golden Star Fans. N.T.D told the investigating police that he had bought flares from a stranger and had set fire two flares. After that, N.T.D was detained by the security. One day after, the police have extended the scale of investigate. According to the provisions of law, N.T.D N.T.D is administratively sanctioned for using flares according to Clause 5, Point 2, Article 10, Decree No. 167/2013 / ND-CP of the Government.
Vietnam Football Federation (VFF) had a meeting with the security agency to improve the security works in the match with Thailand on 19th November.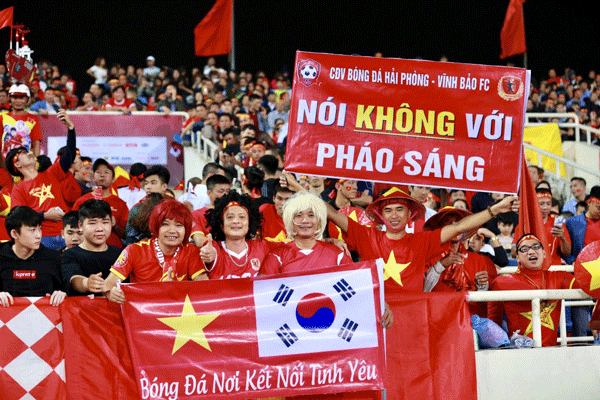 Flares are now strongly condemned by the supporters and society. VFF and the authorities are fiercely handling in accordance with the law. In the match between Vietnam and UAE, there were some support teams who carried the banner with the slogan "Say no with flares". Recently, 1 supporter was hurt by flares in Hang Day stadium. Besides that, setting the flares also the reason that made Vietnam Football received many punishments from the international football organisation.
VFF stated continue to co-operate with the authorities to ensure the security and safety in the match to avoid all the accidents. Safety is the most important. Not only inside the stadium, but the security departments also check and control the tickets at all gates, detect and prevent the illegal ticket. The organisers and security departments have a special plan to protect Thailand's supporters.
VFF encourages the audience do not throw strange objects on the field; do not bring weapons, tools, and flares. The security will have plans to strictly handling those who intentionally hide flares and set fire into the field.